THS

cross country teams run well in opening meet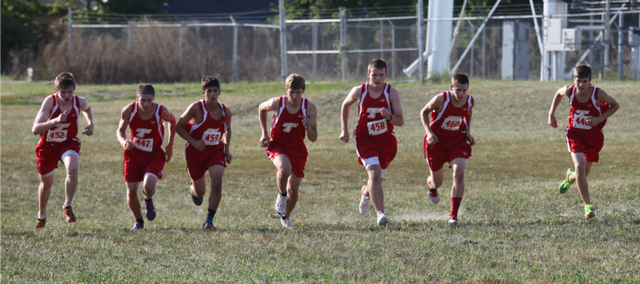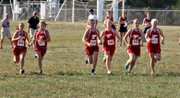 The Tonganoxie High cross country teams overcame some newfound heat, as well as a league rival, to start their season on a high note Thursday.
The Chieftains swept Lansing in a season-opening dual at Tonganoxie Middle School. The girls and boys teams each took four of the top five spots, defeating the Lions by scores of 21-39 and 19-39, respectively.
"We had run pretty strong at our Red-White scrimmage last Saturday, so I knew the potential was there to do well today," coach John Tollefson said. "Lansing didn't return a lot of runners from last year, so I wasn't sure where they'd be, but I was very pleased with our kids' performance."
Lansing's Jordan Maestas won the girls race with a time of 16:00.99, but THS runners claimed the next four spots and seven of the top 10 to win the team title. Chieftain juniors Tressa Walker (16:48.69) and Emily Williams (16:58.2) and sophomores Sophia Wetta (17:03.67) and Nicole Zerrer (17:11.92) rounded out the top five.
Junior Garrett French opened his season with an individual title on the boys side, finishing with a time of 17:35.99. Freshman Drew Cook (17:55.95) placed second in his first high school meet, while senior Andrew Behm (18:26.48) and sophomore Dylan Staatz (18:37.3) came in fourth and fifth, respectively. Lansing's Matt Hanks (18:04.83) finished third to pace the Lions.
THS will try to carry its season-opening momentum into its next meet when it travels Sept. 12 to the Holton Invitational.
"Any time you can build on some success like this, it's a good thing," Tollefson said. "We've gone out and done exceptionally well in our first meet, but that doesn't mean we're where we need to be. If we want to keep performing at the top, we'll have to keep working as hard as we have to this point."
Girls results
Jordan Maestas, LAN, 16:00.99; 2. Tressa Walker, TON, 16:48.69; 3. Emily Williams, TON, 16:58.2; 4. Sophia Wetta, TON, 17:03.67; 5. Nicole Zerrer, TON, 17:11.92; 6. Emma Bresser, LAN, 17:32.83; 7. Emily Chambers, TON, 17:39.63; 8. Isabella Behm, TON, 17:53.27; 9. Karah Bryant, LAN, 18:58.61; 10. Kourtni Freemyer, TON, 19:06.38; 11. Carmen Mabee, LAN, 19:56.02; 12. Hanhah Fay, LAN, 20:06.6; 13. Catherine Strehlow, LAN, 20:08.91; 14. Jenny Redden, LAN, 22:42.86.
Boys Top 10 results
Garrett French, TON, 17:35.99; 2. Drew Cook, TON, 17:55.95; 3. Matt Hanks, LAN, 18:04.83; 4. Andrew Behm, TON, 18:26.48; 5. Dylan Staatz, TON, 18:37.3; 6. Tanner King, LAN, 18:37.52; 7. Brad Andrews, TON, 19:03.38; 8. Ethan Phillips, 19:18.03; 9. Joe Lorenzen, LAN, 19:29.08; 10. Andrew Redden, LAN, 19:43.62; 11. Jack Bresser, LAN, 19:46.83; 12. Max Erickson, LAN, 19:55.14; 13. Justin Patrick, TON, 19:58.85; 14. Matt Paxton, LAN, 20:02.9.