Chieftains run wild in season-opening win
THS

amasses 474 rushing yards vs. Lansing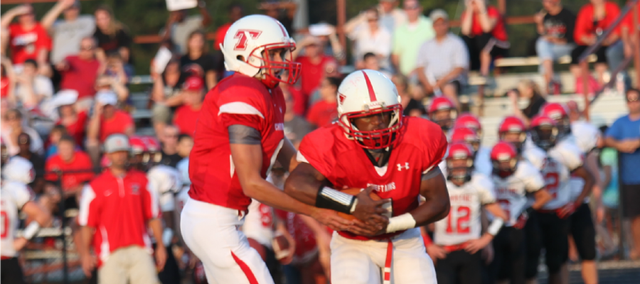 KVL standings
School, KVL, Overall
Basehor-Linwood, 1-0, 1-0
Bonner Springs, 1-0, 1-0
Tonganoxie, 1-0, 1-0
Mill Valley, 0-0, 1-0
Piper, 0-0, 0-1
Bishop Ward, 0-1, 0-1
Lansing, 0-1, 0-1
Turner, 0-1, 0-1
In coach Al Troyer's first season, Tonganoxie High never scored more than 35 points in a single game. What a difference one year can make.
THS exploded for 605 yards of offense — 474 on the ground — in a 58-42 win against Lansing in Friday's season opener at Beatty Field. The Chieftains (1-0, 1-0 Kaw Valley League) opened up a 52-20 lead after three quarters and withstood a late charge to defeat the Lions (0-1, 0-1) for the second consecutive season.
"It shows that the work we put in this summer really paid off," said Cole Holloway, who ran for 213 yards and a career-high four touchdowns. "Coach talked about wanting to start where we left off last season, and I think we did that."
THS scored first on a 25-yard field goal by Eric Tate, then made it 10-0 on a 35-yard run by Shane Levy midway through the first quarter. Lansing answered on the ensuing kickoff, when Khalil Bailey went 87 yards for a score.
Holloway took over in the second quarter, which he opened with a six-yard touchdown run. He added two more scores before halftime, sandwiching a five-yard touchdown run by Lansing's Colin McQuillan, and the Chieftains took a 31-12 lead into the locker room.
Chieftain quarterback Tyler Ford stole the show in the third quarter, running for one touchdown and throwing for two more. He opened second-half scoring with a 77-yard scoring strike to Ben Johnson on the team's first drive. Ford and Johnson tried to hook up twice in the first half, but came up empty on a pair of scoring opportunities.
"We tried to throw some over the top early, but we had a slick ball," Troyer said. "We got it together in the second half and got it down there."
Lansing quarterback Krystian Abbott made it 38-20 on a one-yard sneak with 4:21 left in the third, but Ford reeled off a 55-yard touchdown run of his own on the Chieftains' next play from scrimmage. He then connected with Jared Sommers on a 16-yard touchdown pass, giving THS a 22-point advantage entering the final period.
"We had a lot of different people score," Troyer said. "It wasn't just Cole or Shane, so it was a great start offensively."
Abbott kept the game from turning into a blowout with three fourth-quarter touchdowns. He scored on another one-yard keeper in the opening minutes of the period, then hooked up with Hector Porter from 18 yards out to make it a two-possession game with 7:20 remaining.
Holloway halted the comeback attempt with his fourth touchdown of the night — this one on an eight-yard run with 4:05 left. Abbott added one more score on the Lions' ensuing possession, but THS got the ball back with 3:08 left and ran out the clock.
The Chieftains' 58 points were the most they've scored in a single game since handing Santa Fe Trail a 75-12 loss on Oct. 2, 2009. All told, Friday's game featured 100 total points and nearly 1,000 total yards of offense.
"I don't think I've ever played in a game with 100 points," Holloway said.
Holloway paced THS with his third career 200-yard game. Ford and Levy also eclipsed the 100-yard mark, running for 161 and 100 yards, respectively, and Ford finished 6-of-12 passing for 131 yards.
Lansing got a big night from Abbott, who threw for 335 yards in addition to his three rushing touchdowns. Kenneth Banks was the Lions' leading receiver, catching seven passes for 108 yards.
"We've got some work to do defensively," Troyer said. "I didn't know I'd have to stress with 58 points, but our kids were tired. We were out there for three hours."
The Chieftains will hit the road Friday to take on an Atchison team they faced twice in 2012. THS dropped a regular-season game against AHS, 25-0, then got revenge with a 35-28 win in the bi-district round of the Class 4A playoffs. Atchison won its 2013 season opener against Pleasant Ridge, 35-16.
"It's going to be a hostile environment," Holloway said. "They're a really good team, so hopefully we can just go battle with them and see what happens."
Score by quarters
LHS 6 6 8 22 — 42
THS 10 21 21 6 — 58
First quarter
THS — Eric Tate 25 field goal, 9:48
THS — Shane Levy 35 run (Tate kick), 5:38
LHS — Khalil Bailey 87 kick return (kick failed), 5:24
Second quarter
THS — Cole Holloway 6 run (Tate kick), 11:53
THS — Holloway 2 run (Tate kick), 4:41
LHS — Colin McQuillan 5 run (run failed), 2:23
THS — Holloway 10 run (Tate kick), :28
Third quarter
THS — Ben Johnson 77 pass from Tyler Ford (Tate kick), 9:17
LHS — Krystian Abbott 1 run (Bailey pass from Abbott), 4:21
THS — Ford 55 run (Tate kick), 4:08
THS — Jared Sommers 16 pass from Ford (Tate kick), 1:12
Fourth quarter
LHS — Abbott 1 run (pass failed), 9:52
LHS — Hector Porter 18 pass from Abbott (Bailey pass from Abbott), 7:20
THS — Holloway 8 run (kick failed), 4:05
LHS — Abbott 1 run (Abbott run), 3:08
Rushing
THS: Holloway 32-213, Ford 18-161, Levy 12-100; LHS: McQuillan 11-24, Porter 3-20, Abbott 6-7, Jordan Girard 1-3, Sage Herrera 1-(-8).
Passing
THS: Ford: 6-12-0 131; LHS: Abbott 21-38-1 335.
Receiving
THS: Johnson 1-77, Levy 3-34, Sommers 1-16, Wyatt Weeks 1-4; LHS: Kenneth Banks 7-108, Bailey 3-98, Porter 5-61, McQuillan 3-46, Ben Johnson 2-13, Girard 1-9.
More like this story