McLouth volleyball takes fourth at home tourney
Bulldogs off to 5-2 start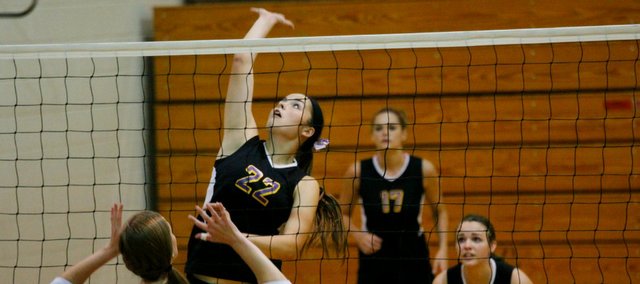 Photo Gallery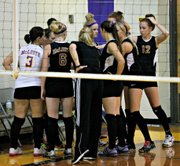 McLouth Volleyball Invitational 2013
The McLouth High volleyball team placed fourth Saturday at its home tournament. The Bulldogs went 3-2 in tournament play.
If the first week of the 2013 season was any indication of things to come, the McLouth High volleyball team could be in for plenty of success this fall.
Following a fourth-place showing Saturday at their home tournament, the Bulldogs (5-2) have already surpassed their win total from last year's 3-31 campaign. They went 3-2 in tournament action, including a 2-0 showing in pool play.
"We were extremely pleased with how we played," coach Kay Koch said. "Our energy level was great. I've been coaching with McLouth for four years and I've been running the same system, and now everyone is on board with it. It's all finally coming together."
MHS opened pool play with a three-set victory against Maur Hill-Mount Academy, then guaranteed itself the top seed in bracket play with a three-set win against Veritas Christian School. Koch's squad then ran its season-opening win streak to five in its bracket play opener, defeating Kansas City Christian in straight sets.
The streak came to an end in the semifinals, though, as the Bulldogs were swept by eventual tournament runner-up Atchison County Community High School. They couldn't regain their early momentum in the third-place match, either, as they fell in a rematch against Maur Hill.
"I think we were so excited because we're not used to winning," Koch said. "I think we spent a lot of energy celebrating, so we ran out of steam for the last two."
Koch added that several of her players are cheerleaders, and McLouth's Friday night football game at Nemaha Valley could have contributed to the late fatigue.
Class 4A Perry-Lecompton went on to win the tournament championship, defeating ACCHS in the title match.
MHS will get yet another shot at Maur Hill when it travels Tuesday to MHMA for a triangular with Valley Falls. The Bulldogs also compete in a quad Thursday at ACCHS. After playing five matches against four opponents Saturday, Koch hopes her team will be able to use the experience to its advantage when playing in similar formats throughout the season.
"Now the girls know what that feels like, so I think we'll be more prepared," she said.