A climb to reflect
Firefighters join in 9/11 memorial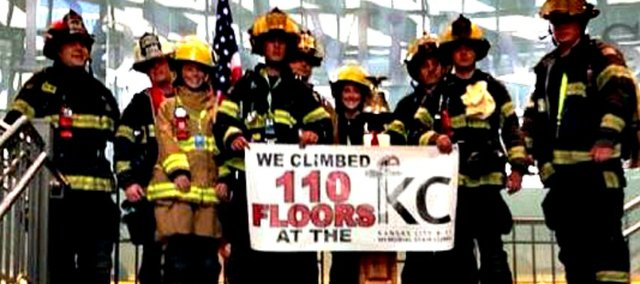 David Mellen never knew New York City firefighter David Weiss, but an annual 9/11 event in Kansas City, Mo., has helped Mellen feel a significant connection to the fallen firefighter.
Weiss was one of 343 firefighters who died while responding to the terrorist attacks on Sept. 11, 2001, at the World Trade Center.
Mellen, a Tonganoxie City Fire Department lieutenant and Reno Township firefighter, was one of nine volunteer firefighters from the two departments to participate in Sunday's 9/11 Memorial Stair Climb in the Town Pavilion building in downtown Kansas City, Mo.
Firefighters volunteer to climb 110 floors — the same number in each of the twin towers.
"Its purpose is to finish the climb for those who couldn't," Mellen said. "Get to the place no one else could."
Mellen participated in his third climb Sunday and has represented Weiss, a member of the FDNY Rescue 1 unit, every year. Mellen has done research on Weiss and contacted family members and firefighters who have climbed in Weiss' honor in other cities.
"The bond is indescribable," Mellen said. "There are a lot of similarities. He started very young in fire service, as did I.
"He always kind of knew he wanted to be a firefighter. It's the same path I took as well."
Participants can request a specific firefighter or be assigned, as was the case for Mellen. He represented Weiss the first year in 2011 and has requested him since.
At Town Pavilion, firefighters hike 34 floors three times, taking the elevator back down in between. They then climb seven floors and then a final floor to represent the 110 stories. Each participant then reads the name of the firefighter they represented and rings a bell. Mellen said the climb was broken down into three groups with each climb taking about two hours to complete. Firefighters climbed in full bunker gear, which can weigh between 50 and 70 pounds, Mellen said.
"It takes a toll on everybody who does it," Mellen said. "It doesn't matter how in shape you are. It's still not an easy thing to do."
Darren Shepherd, Tonganoxie City Fire captain and Reno Township assistant chief, climbed for Gary Geidel of Rescue 1. Other Tonganoxie firefighters climbing were John Seymour for Terence Hatton from Rescue 1, Chris McClendon for Michael Warchola from Ladder 5, Christopher Ridihalgh for Michael Carroll from Ladder 3 and Jefferson Boor for Andrew Fredericks from Squad 18.
Reno Township firefighters were Robert Harrison for Kenneth Marino from Rescue 1, Kaitlyn Kane for Kevin Donnelly from Engine 1 and Alexis Shanks for John Tierney from Ladder 9.
Mellen said Dave Bova, a Lawrence firefighter, started the Kansas City memorial climb. Firefighters from Fairmount Township, Leavenworth County District 1 (Lansing and Piper), Leavenworth City and Fort Leavenworth also participated, as did others from Kansas and across the Midwest.
Like Mellen, Boor researched the FDNY firefighter for whom he was climbing.
Boor said Fredericks was a longtime New York City firefighter who did extensive research on hose nozzles and which types are most effective in attacking a fire. He also wrote articles for a firefighter magazine and taught at fire conferences.
Boor and his fellow firefighters took turns carrying a 50-foot section of hose folded and draped over their air packs.
"We were tired," Boor said.
But he also said it was well worth the effort.
"It gives you a good chance to reflect and experience what they went through," Boor said. "It's just a great memorial."
Mellen said local firefighters plan to participate for years to come.
"The goal is to have someone from Tonganoxie and Reno climb every year forever," he said. "The idea for the climb is never forget."