Grand time in Tonganoxie
Hundreds of grandparents attend annual school festivities at
TES

,

TMS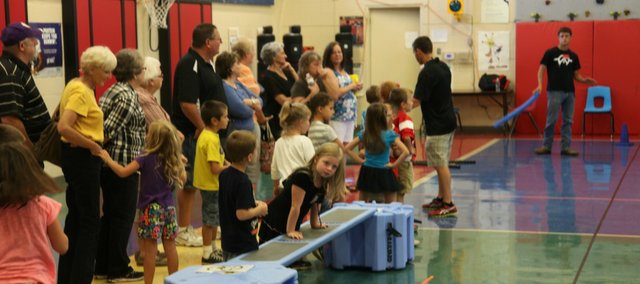 Keith and Chris Carlson thought nothing of driving 634 miles to visit grandson Brayden McCann-Folsom on Friday at Tonganoxie Elementary School.
It was, after all, Grandparents Day, which has become a popular event in Tonganoxie.
Chris attended festivities last year when the couple still lived in Tonganoxie. She made sure to return again this year even if they live 10 and a half hours away in Hartsel, Colo.
"I don't think they did this when our kids were in school, but it seems to be very successful," she said. "I think they love it."
Brayden, who is a TES second-grader, said he was glad his grandparents could make it for the day.
"It's exciting," Brayden said. "We played games. We did problem solving and stuff like that. And that's pretty much all."
The Carlsons lived in Tonganoxie for several years before moving to Colorado for retirement and the cooler weather, Keith said.
They braved the heat last weekend and had a chance to see Brayden play football on Saturday and another grandchild in the Basehor-Linwood school district play softball Sunday.
Another grandparent, Linda Barr of Merriam, was shooting baskets Friday afternoon with granddaughter Lacey Israel. She also was visiting Lacey's twin sister, Lauren.
"I wouldn't miss it," Barr said. "It's fun to meet their friends and see what they're doing in school."
TES principal Tammie George said the elementary school welcomed about 735 grandparents Friday, which is average attendance.
This year, school officials sent out "invitations" for the grandparents to fill out and bring with them Friday to serve as "tickets" to the event. George said that helped alleviate the logjam of previous years in which each grandparent had to stop and sign in at the main office.
"It really worked well to still have record of who was in the building, but they got in the building very quickly that way," George said.
"It continues to be very popular," George said. "I think we found out how extremely crowded we are in this building and how much we are anticipating a new building. We didn't even have enough chairs."
Grandparents could spend two hours in the morning with Tonganoxie Middle School students and two in the afternoon with TES students.
It was the first Grandparents Day for TMS principal Mark Farrar.
Grandparents came to the commons area at 8:30 a.m. and had breakfast as Farrar chatted with them about the morning's activities. Students then escorted some 300 grandparents to their classrooms.
"At other schools. It's always a big deal to have grandparents come in, but I'd say in my history they don't do it as high up as we do it as far as grade level," Farrar said. "Typically it's the earliest grades. This is the only place I've been at that really goes beyond that."
The first-year TMS principal praised his teachers for activities they planned for the morning session. He said one teacher based an activity around Sept. 11.
"The kids were really proud to have their grandparents there and eager to greet them and show them what they're doing in the classroom."