THS

soccer gets first win at Atchison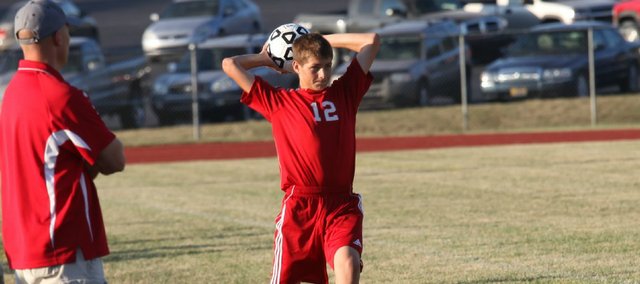 Photo Gallery
THS soccer at Atchison
The Chieftain varsity and junior varsity soccer teams both earned wins Tuesday at Atchison. The JV won, 4-0, and the varsity won, 5-1.
THS 5, Atchison 1
First half scoring
Asher Huseman (TON), 38:38
Dylan Olson (TON), 20:49
Colten Weaver (TON), 17:38
Second half scoring
Ben Horvatic (ATC), 34:32
Jay Willcutt (TON), 14:27
Jay Willcutt (TON), 11:36
Atchison — The Tonganoxie High soccer team's search for its first win has come to an end.
The Chieftains ended a three-game losing streak Tuesday with a 5-1 victory against Atchison at Amelia Earhart Stadium. The win was the first for a THS squad replacing nine starters from last year's state runner-up team.
"I hope the kids can just kind of relax now and realize some of the simple things we're trying to do are going to work, but we have to do them," coach Brian Kroll said.
Asher Huseman got the Chieftains (1-3) on the board early, drilling the ball into the net less than two minutes into the game. He now leads the team with six goals this season. Dylan Olson doubled the team's advantage midway through the first half, and Colten Weaver scored a goal of his own just more than three minutes later to make it 3-0. Neither team scored again before the break.
AHS got one back in the opening minutes of the second half on a goal by Ben Horvatic, but Jay Willcutt capped off scoring with a game-high two goals. His first came on a header with 14:27 remaining, and his second came with 11:36 left. Willcutt now has three goals in his last two games.
The five goals and four individual scorers were both season-highs for the Chieftains.
"What that does is, it lets anybody who's going to play us know we've got threats all over the field," Kroll said.
Before the varsity game, the junior varsity squad earned a 4-0 victory — its second win in as many games.
The Chieftains will be back on the road Thursday when they travel to Perry-Lecompton for another non-league game. THS played the Kaws twice last season, earning a 5-0 win at home and ending in a 2-2 draw on the road. The junior varsity teams will start things off at 4:30 p.m. and the varsity game will immediately follow.
"They've tasted losses three times, and now they've tasted a win once," Kroll said. "I hope they like the taste of winning more than the taste of losing."