Game notes:
THS

football at Atchison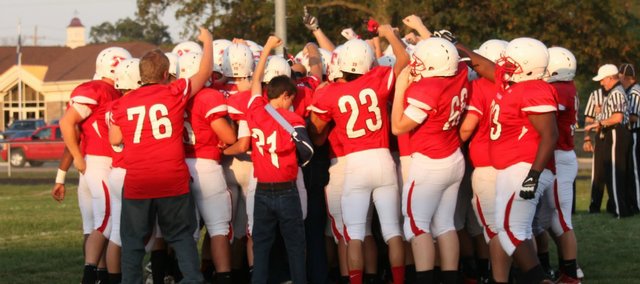 The Tonganoxie High football team will try to build on its 58-42 win against Lansing when it travels Friday to Atchison for a non-league showdown. Kickoff is set for 7 p.m. at Amelia Earhart Stadium. The teams met twice last year at Beatty Field. Atchison won a 25-0 decision in a regular-season meeting on Sept. 7, but THS got the last laugh with a 35-28 victory in the bi-district round of the Class 4A playoffs on Oct. 30.
Run and gun
Friday's meeting will pit two dual-threat quarterback against one another. THS senior Tyler Ford ran for 161 yards, threw for 131 more and accounted for three total touchdowns in the Chieftains' season-opener. Meanwhile, Huntington threw for 171 yards and three scores and added 64 yards on the ground in a 35-16 win against Pleasant Ridge.
"He'll scramble quite a bit," coach Al Troyer said of the AHS signal-caller. "We've got to contain him for a long time. He'll try to bust the pocket, and he holds the ball for a long time and tries to throw it."
Huntington accounted for 154 total yards (117 passing 37 rushing) in the teams' first meeting in 2012. He threw for 291 yards in the playoff game, but netted zero yards on the ground.
Veteran opponent
Like the Chieftains, Atchison returns most of its skill position players from last year's playoff team. AHS is led by Huntington, running back Austin Housh and receiver Wade Gassmann. The senior trio paved the way to the team's season-opening victory against the Rams. Housh ran the ball 11 times for 134 yards and two touchdowns, and Gassmann hauled in two passes for 53 yards and a pair of scores.
"They've got several skill guys back that are threats," Troyer said. "They moved the ball around pretty well last week, so we know we're going to have to be more disciplined on defense."
The Chieftain defense allowed just 46 rushing yards last week, but Lansing finished with 335 yards through the air.
Battle up front
The Chieftain offensive line helped amass 605 yards of offense last week — 474 on the ground — but will likely face a stiffer challenge against Atchison. The AHS defense recorded seven tackles for negative yardage and forced two turnovers against Pleasant Ridge.
"We've always said 'if it's going to get done, it has to get done up front,'" Troyer said. "Our lineman are mindful of that. They know their work is cut out for them and it gets tougher and tougher week by week."
THS ran for just 85 yards in its first meeting with Atchison last season, but racked up 333 yards in the playoffs.
Elusive second win
THS hasn't started a season 2-0 since winning its first two games of the 2008 season. That year's team opened the year with wins against Prairie View and Osawatomie. The Chieftains have won their opener every year since, but have suffered a loss in week two.
Unfamiliar territory
None of the current Chieftains have ventured onto Atchison's home field. The last time THS played at Amelia Earhart Stadium was Oct. 20, 2006. Atchison won the game, 21-6.
Coach's final thoughts
"We've got to go out and play," Troyer said. "It's going to be an intense game. Like Lansing last year, that was stuck in their craw with us beating them in the first game of the year. If we come out and do what we do, all the hype will take care of itself."
More like this story