Chieftains blast Atchison to move to 2-0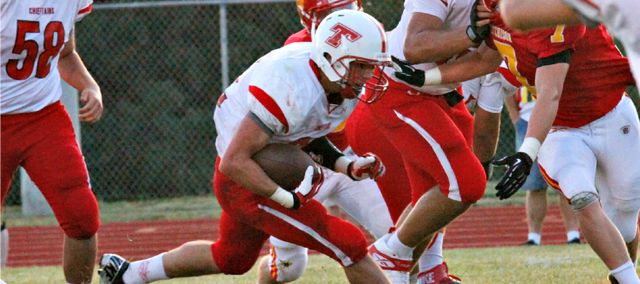 Photo Gallery
THS 41, Atchison 14
Tonganoxie High cruised to a 41-14 win against Atchison Friday at Amelia Earhart Stadium.
KVL standings
School, KVL, Overall
Bonner Springs, 2-0, 2-0
Mill Valley, 1-0, 2-0
Tonganoxie, 1-0 2-0
Piper, 1-0, 1-1
Basehor-Linwood, 1-1, 1-1
Bishop Ward, 0-1, 0-2
Lansing, 0-2, 0-2
Turner, 0-2, 0-2
Atchison — For the second time in as many weeks, Tonganoxie High ran the ball at will against the opposing defense. Once again, the end result was a big win.
The Chieftains broke open an 8-8 tie with 26 second-quarter points and cruised to a 41-14 victory against Atchison Friday at Amelia Earhart Stadium. THS racked up 373 yards of offense — 325 rushing — and allowed just 198 on the way to its first 2-0 start since the 2008 season.
Atchison (1-1) struck first when quarterback Tanner Huntington hit Wade Gassmann on a 63-yard touchdown pass with 3:13 left in the first quarter. The lead was short-lived, though, as THS responded on the ensuing drive.
The Chieftains came up empty after starting their first two drives in Atchison territory, but finally hit paydirt on a two-yard touchdown run by Jared Sommers with 6.6 seconds left in the period.
"We knew it would be an aggressive game," coach Al Troyer said. "They came out and stunted hard and we struggled at first, but we always had the feeling we were going to come out of it."
Sommers played a handful of snaps at quarterback for the first time in his high school career. He finished with 30 yards on five carries.
"At first, it was a little nerve-wracking, but once I got behind those lineman, they moved people out of the way," Sommers said. "It's fun to run behind those guys."
Troyer said the Chieftains practiced using the offensive package throughout the summer. Sommers also had a big day on special teams, posting kick returns of 34 and 59 yards — the latter setting up the team's first scoring drive — and a 33-yard punt return.
AHS gave the ball back in its own territory when Huntington fumbled on the final play of the quarter. Jordan Boudreaux fell on the loose ball, giving the Chieftains possession on the Atchison 41, and THS capitalized one play later when Tyler Ford found Maleak Gibson down the sideline for a touchdown.
Ford added touchdown runs of one and 23 yards and Shane Levy tacked on a four-yard score to give the Chieftains a 34-8 advantage at the break.
Atchison managed just one more first-half first down after its scoring drive. Aside from Huntington's touchdown pass, AHS went into the locker room with just 37 yards of offense.
"We played great defense," Troyer said. "We shut them down in the first half, then we came out pretty confident in the second half."
AHS drove deep into Tonganoxie territory on its first two drives on the second half, but THS came up with a pair of fourth-down stops to kill both scoring threats. The Chieftains ran the ball for the duration of the second half and added their final score on a three-yard run by Levy with 3:48 left in the fourth quarter. The Atchison defense provided the final points of the night when Huntington recovered a fumble in the end zone in the closing seconds.
Cole Holloway failed to find the end zone, but led the Chieftains with 143 rushing yards on 20 carries. Ford and Levy added 108 and 52 yards, respectively, and Ford finished 2-of-5 passing for 48 yards. Boudreaux led the defensive charge with nine tackles and James Grizzle recorded a pair of sacks.
Huntington was 9-of-23 passing for 158 yards, but AHS managed just 40 yards on the ground.
THS will return to Kaw Valley League play this week when it hosts Piper at 7 p.m. Friday at Beatty Field. The Pirates defeated the Chieftains last season at PHS, 61-13.
"As Coach said, we've won two games that we were supposed to win," Sommers said. "In our book, we were supposed to win this game, and we just want to keep it going."
Score by quarters
THS 8 26 0 7 — 41
AHS 8 0 0 6 — 14
First quarter
AHS — Wade Gassmann 63 pass from Tanner Huntington (Tyler Harris pass from Huntington), 3:13
THS — Jared Sommers 2 run (Wyatt Weeks pass from Tyler Ford), :06
Second quarter
THS — Maleak Gibson 41 pass from Tyler Ford (kick failed), 11:53
THS — Ford 1 run (Eric Tate kick), 8:21
THS — Shane Levy 4 run (Tate kick), 4:06
THS — Ford 23 run (run failed), :28
Third quarter
No scoring
Fourth quarter
THS — Levy 3 run (Tate kick), 3:48
AHS — Huntington fumble recovered in end zone (kick failed), :42
Rushing
THS: Cole Holloway 20-143, Ford 17-108, Levy 9-52, Sommers 5-30; Conner Brown 1-(-3), Dalton Trimble 1-(-5); AHS: Bennie Smith 7-28, Weston Wood 5-10, Austin Housh 5-3, Huntington 9-(-1).
Passing
THS: Ford 2-5-0 48; AHS: Huntington 9-23-0 158.
Receiving
THS: Gibson 1-41, Levy 1-7; AHS: Gassmann 1-63, Wood 2-31, Housh 2-19, Wykeen Gill 2-18, Spencer Walker 1-15, Smith 1-12.