Chieftains, Bulldogs run at Holton Invitational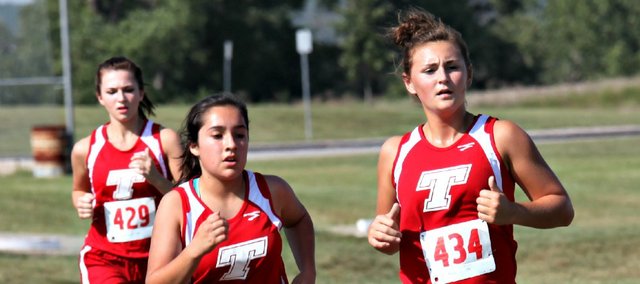 Related document
The Tonganoxie and McLouth high school cross country teams returned to the course Thursday at the Holton Invitational. The Chieftains sent their junior varsity squads, while the Bulldogs ran in the varsity race.
THS senior Taylar Morgan finished third in the girls JV race with a time of 21 minutes, 48 seconds. She was joined in the top five by fellow senior Alissa Donnelly, who took fourth with a time of 22:09. Junior Lexis Fehd (23:36), freshman Anahi Puebla (23:29) and sophomore Jessica Rowzer (23:46) came in eight, ninth and 10th, respectively.
Junior Jackson Bartlett led the THS boys with an 11th-place time of 22:54. He was joined in the top 20 by junior David Masters (13th, 23:07), freshman Nick French (15th, 23:12) and freshman Brock Ladesic (19th, 23:43).
McLouth's Savanna Noble led the Bulldog girls for the second straight meet, finishing 34th in the varsity race with a time of 22:02. Emily Hoffhines (40th, 22:33) was the only other MHS girl to cross the finish line, so the girls didn't record a score in the team standings.
Ryan Bristol paced the MHS boys once again with a time of 20:55, good for 23rd place. Tristan Funk finished eight spots behind Bristol with a time of 21:10. The Bulldogs fifth in the team standings.
The Chieftains and Bulldogs will be back in action at 4 p.m. Thursday when McLouth hosts its annual home invitational at Stan Braksick Sports Complex.