McLouth earns homecoming win vs. Doniphan West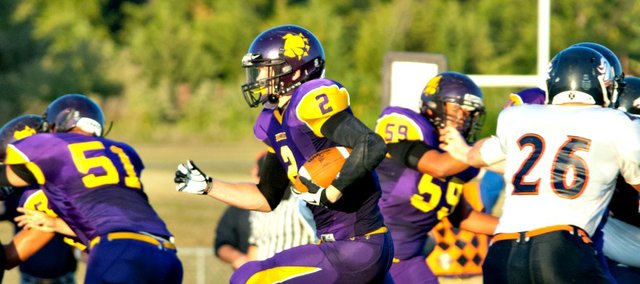 After a lopsided loss in its season opener, McLouth High coach Stewart admitted his team needed improvement in every facet of the game. One week later, the Bulldogs delivered.
Stewart's squad emerged victorious on homecoming, handing Doniphan West a 28-6 loss Friday at Stan Braksick Sports Complex. MHS (1-1) built a 21-point lead by halftime and took a shutout into the fourth quarter against the Mustangs.
"That was really good," Stewart said. "I thought defensively, we played really good against D-West. I just they just worked a lot harder."
The Bulldogs got an early lead when Nick McAferty scored on a 57-yard run in the first quarter, then added added 13 more points in the second. Jack Courtney hooked up with Dante Nelson on a 26-yard touchdown pass, then Drew Cerny added a 15-yard scoring run to make it 21-0 at the break.
Cerny, who finished with 130 yards on 14 carries, scored again in the third quarter — this time from 29 yards out. Doniphan West got on the scoreboard with a two-yard touchdown run in the final period, but the final outcome was never in question.
McAferty joined Cerny as a 100-yard rusher with 100 yards on eight carries. As a team, McLouth amassed 345 yards of offense.
"It will pay a lot of dividends if we can get everybody involved," Stewart said. "It's critical for a spread offense to be able to go to multiple people."
The Bulldogs will try to get above .500 this week when they play a rare Saturday game against Christ Preparatory Academy (2-0). The game will played at 7 p.m. at Center High School, 8715 Holmes Road, Kansas City, Mo. The Patriots defeated Jefferson County North in their opener, 40-7, then handed Douglass a 40-28 loss on Friday.
McLouth defeated CPA last season, 42-7, but Stewart expects a more competitive game this season.
"It looks like they're pretty darn good this year," he said. "They've got some size and they have a lot of returners from the team we played last year. It's going to be a real tough challenge to get out of there with a win."