Creative Nail puts new polish on longtime storefront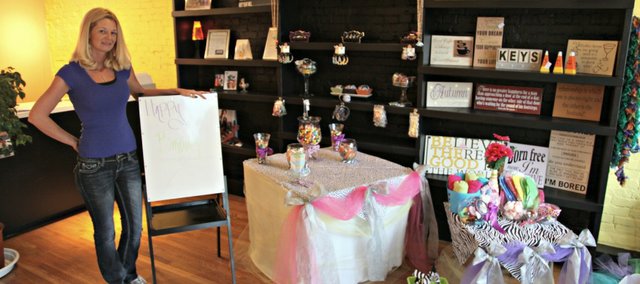 Walk into Shelbie Jaster's new business in downtown Tonganoxie and you can see the Romantic Flamingo and Daisy Pedals.
No, there's not an exotic bird perched in a field of flowers. They're actually the formal names for bright orange and yellow colors used to paint the walls inside Creative Nail, 626 E. Fourth St.
Jaster opened the business in mid-August and wanted vibrant colors that would be inviting. The ceiling is painted to resemble a zebra print.
"We wanted to be a little different than your normal nail salon," Jaster said. "The old building has a lot of character. We just wanted to give it a fresh look."
The salon, formerly home to Vintage Soap and Bath, opened a month ago.
"It's been very promising," Jaster said about the first few weeks of business. "The only advertising I've done has been on Facebook. We have great clients established already."
Creative Nail also welcomes walk-ins along with scheduled appointments.
The salon has four nail technicians: Courtney Bunch, Shelby Todd, Tracie Schmalstieg and Jaster.
The business offers pedicures, manicures and other nail offerings. Creative Nail also is selling products from The Ruffled Daisy, a Tonganoxie home-based home décor business, and jewelry. Girls' birthday packages also are available.
Jaster said she's looking to add facials and waxing to services in the coming months. Customers also can purchase beauty and nail products starting later in the fall.
For pedicures, Jaster uses pedicure bowls instead of water jet systems. She said news reports have indicated the bowls to be more sanitary. Massage chairs also are used for pedicures.
Jaster served as executive director for the Tonganoxie Chamber of Commerce a few years ago, so she's familiar with the Tonganoxie business community. She said she's excited to now be a part of it as a business owner.
"I thought it would be convenient," Jaster said about the spa. "We've never really had a full-service nail salon since I've been here. I thought it would be convenient and something I really love to do."
Creative Nail is open 10 a.m.-7 p.m. Mondays through Wednesdays and on Fridays. It's open 10 a.m.-8 p.m. on Thursdays and 10 a.m.-5 p.m. on Saturdays.
For more about the business, call 913-227-5528 or visit createnail.com.