O'Hagan earns volleyball awards at
CSUB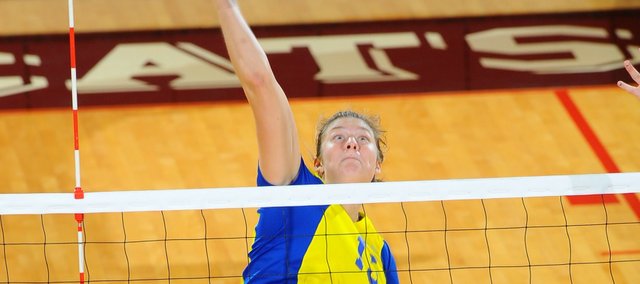 A former Tonganoxie High volleyball player recently was honored in the collegiate ranks, as 2011 grad Molly O'Hagan was named the Western Athletic Conference Volleyball Player of the Week on Sept. 9.
O'Hagan, a junior middle blocker at Cal State University-Bakersfield, averaged 3.75 kills and 1.19 blocks per set while hitting .505 to help the Roadrunners go 3-1 in four matches from Sept. 2-8.
In addition to the conference award — the first of her career — O'Hagan was named the Most Valuable Player of the James Madison Classic, which took place Sept. 6-7 in Harrisonburg, Va. CSUB won the tournament behind O'Hagan, who averaged 4.09 kills and 1.55 blocks per set while hitting .586 in three matches.
O'Hagan ranks second on the team with 3.22 kills per set and leads the squad with .82 blocks per set. She also ranks second among regular starters with a .386 hitting percentage. The Roadrunners are 6-4 this season.