THS

volleyball swept by Basehor-Linwood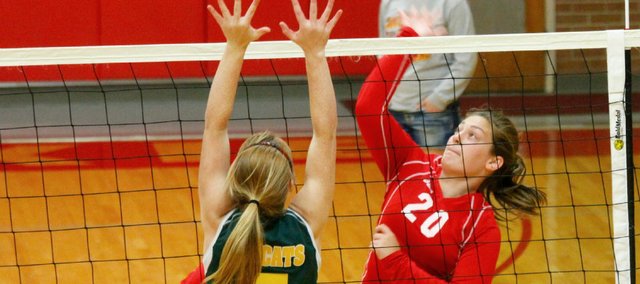 In back-to-back sets, the Tonganoxie High volleyball team had itself in position to take down a league rival on its home floor. However, on both occasions, the Chieftains couldn't seal the deal.
A shaky start and two late collapses kept THS out of the win column for the fourth straight match as they fell to Basehor-Linwood in straight sets, 25-13, 25-23, 25-21.
"I don't feel like we gave up or played not to lose," coach Tiffany Parker said. "It was just one of those times where they volleyball momentum kind of went their way. Some days are like that."
After grabbing an 8-5 lead early in the first set, the Bobcats took control with a 9-0 run from which the Chieftains (1-4, 1-1 Kaw Valley League) couldn't recover. The teams traded points for the remainder of the set, but THS failed to cut into the deficit.
Parker's squad poised to even the match in the second set when it scored four straight points to take a 22-20 lead. The Bobcats had other plans, though, as they rattled off a 5-1 run of their own to claim the set and a 2-0 lead.
Both teams struggled to gain an advantage in the final set, as neither team led by more than two until THS took a 20-16 lead. However, just like in the second set, BLHS put together a late comeback to cap off the sweep. The Bobcats scored the next seven points — part of a match-ending 9-2 run.
"We competed really well tonight compared to some of our last games that we played," said senior Morgan Oroke, who led the Chieftains with seven kills. "I think they just got in our heads more than anything."
Senior Marissa Martin led the team with 15 digs, and Oroke and fellow senior Kara Banks each recorded a service ace in the loss.
THS will return to its home floor Thursday for a non-league match against Pleasant Ridge. The freshman will start things off at 4 p.m. and the junior varsity and varsity matches will immediately follow.
"Whenever we're playing other teams, what I worry about is what's on our side," Parker said. "I can control what we practice, how we practice and the intensity with which we prepare ourselves."