Game notes:
THS

football vs. Piper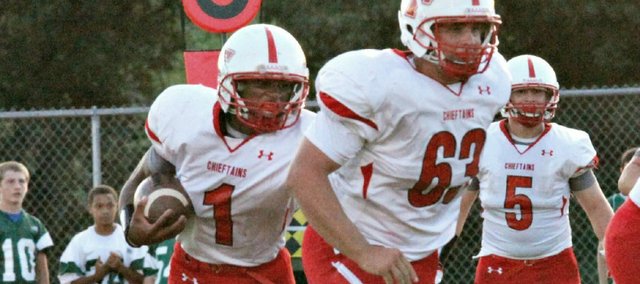 A pair of Kaw Valley League charter schools will face off at 7 p.m. Friday when Tonganoxie welcomes Piper to Beatty Field. The Chieftains (2-0, 1-0 KVL) and Pirates (1-1, 1-0) both won last week, but did so in very different fashions. Tonganoxie used a dominant first half to dispatch of Atchison, 41-14, while Piper rode its defense to a 12-6 win against Basehor-Linwood. The Pirates defeated the Chieftains in last year's meeting at PHS, 61-13.
Opposite paths
Friday's matchup will feature teams that saw very different outcomes in their first two games. The Chieftains scored a combined 99 points in wins against Lansing and Atchison, averaging 489 yards of offense. Piper scored just 19 points in its first two games, but held Eudora and Basehor-Linwood to a combined 18.
Power vs. speed
The Pirates' speedy defense gave opponents fits in the backfield in their first two games. PHS has already recorded 14 tackles for loss, five sacks and five turnovers. Linebacker Colton Beebe leads the team with 25 tackles — two behind the line of scrimmage — and a sack.
The Chieftains have enjoyed plenty of success in the run game, averaging just shy of 400 yards on the ground, and the offensive line will need another strong performance if THS wants to replicate that production.
"We'll just try to neutralize their speed, but we know it's going to be tough with Beebe at linebacker," coach Al Troyer said. "They've got speed up front, so we've got to clear the first tier. We know it's not going to be a break away and run for 80 yards type game. We've just got to grind it out and get our four yards."
Forcing mistakes
Offensively, Piper enters the game averaging 244 yards. Quarterback Tanner Eikenbary has completed 19 of 40 pass attempts for 172 yards and two touchdowns, but he's also been intercepted three times. Both touchdowns were to Jake Jones, who has three catches for 64 yards.
Sterling Owens and Beebe lead the Pirates' rushing attack with 142 and 104 yards, respectively, and Beebe has scored once. Eikenbary also has 58 yards on 23 carries.
Tonganoxie has been solid against the run this season, allowing just 43 yards per game. Jordan Boudreaux and Jared Sommers lead the team with 17 and 15 tackles, respectively, and James Grizzle has a team-high three sacks. Controlling the line of scrimmage and forcing Piper to throw could lead to added defensive success and, ultimately, another league victory.
"(Defensive pressure) is going to be huge, but like I said, we've got to corral their speed," Troyer said. "They can go on a busted play and still take it to the house, so we've got to corral them, wrap up and get to the football."
THS has forced three turnovers this season — one on an interception by Sommers and two on recovered fumbles.
Another hurdle
THS is off to its first 2-0 start in five years, but a win Friday would end an even longer streak. The Chieftains haven't started a season 3-0 since 2006. That year's team, which won its first seven games, opened the seasons with wins against Lansing, Bishop Ward and Bonner Springs.
Beat the streak
Piper has won the last four meetings with the Chieftains, and more often than not, the game has come down to the wire. With the exception of last year's lopsided victory, each of the Pirates' last four wins against THS were by four points or less. Even the Chieftains' last victory in the series was a close one, as they won a 29-26 decision on Oct. 24, 2008.
Nearing 500
Cole Holloway is well on his way to another 1,000-yard season, and the Chieftain senior could reach the halfway point this week. Holloway, who ran for 1,271 yards and 10 touchdowns as a junior, already has 356 yards and four scores in 2013. He also leads the team with 52 carries, including 32 in the team's season opener.
Holloway carried the ball 25 times for 70 yards and two touchdowns against Piper in last year's meeting.
Coach's final thoughts
"We try not to focus on (revenge)," Troyer said. "We know we have our offensive and defensive goals that we try to achieve each week, so that's what our focus is. This is a big game, and it's this week's game. We're glad it's at home and we're going to come out and do the things we've been doing."