Chieftains blank Piper to stay undefeated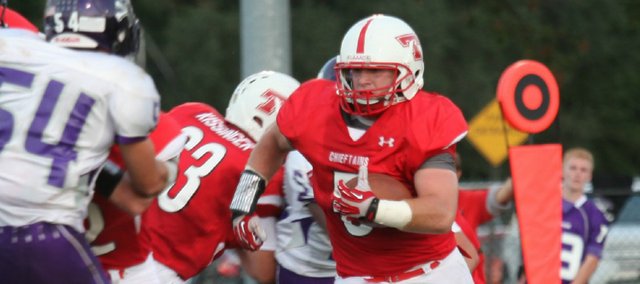 KVL standings
School, KVL, Overall
Bonner Springs, 3-0, 3-0
Mill Valley, 2-0, 3-0
Tonganoxie, 2-0, 3-0
Piper, 1-1, 1-2
Basehor-Linwood, 1-2 1-2
Lansing, 1-2, 1-2
Bishop Ward, 0-2, 0-3
Turner, 0-3, 0-3
After giving up 42 points and 381 yards in its season opener against Lansing, the Tonganoxie High defense wanted to make sure the big numbers were a one-time occurrence. When Piper paid a visit to Beatty Field Friday night, the extra work paid off in a big way.
The Chieftains recorded their first shutout in more than four years, allowing just 161 total yards in a 28-0 victory. The shutout was the team's first since a 14-0 win against Perry-Lecompton on Sept. 18, 2009.
"We took that first game to heart," said coach Al Troyer, whose squad has given up less than 200 yards in each of its last two games. "That was upsetting to us and our defense to give up that many passing yards and that many points. We put an emphasis on what we're going to do. We upped the tempo and they responded well."
THS (3-0, 2-0 Kaw Valley League) took an early 14-0 lead when quarterback Tyler Ford threw a pair of touchdown passes on the team's first two drives. Ford hooked up with Wyatt Weeks, who broke a tackle and went 49 yards for his first score of the season with 9:42 left in the first quarter.
Following an interception by Eric Tate on the ensuing drive, Ford found Ben Johnson, who ripped the ball away from a Pirate defender for a 15-yard score.
"Our word for the week was 'unity,' and they played like a unit," Troyer said. "Our offense came out and hit them in the mouth right away, and we just kept going from there."
Shane Levy made it 21-0 midway through the second quarter when he scored his first of two touchdowns on a six-yard run. Piper (1-2, 1-1) couldn't get anything going on offense, as it punted or turned the ball over on downs on its final three drives of the half.
The Pirates drove into Chieftain territory on the first drive of the second half, but THS ended the threat when Luke Carey picked off quarterback Tanner Eikenbary. The Chieftains scored the final points of the night on the ensuing drive when Levy punched it in from six yards out.
Piper's final four drives ended on fourth down. The THS defense hounded Eikenbary all night, as the Pirate signal caller was 12-of-27 passing for just 89 yards. The PHS ground game was equally as ineffective, as the Pirates combined for just 72 yards on 29 carries.
"We're all in this together," said Levy, who finished with four tackles, including his first sack of the season. "Gang tackling, flying to the ball, doing our jobs and trusting our teammates, that's what helped us out."
Carey, Jordan Boudreaux and James Grizzle led the way with eight tackles each, and Grizzle batted down two passes at the line of scrimmage.
Cole Holloway just missed his third straight 100-yard performance, netting 96 yards on 20 carries. Levy added 50 yards on nine carries to go with his two scores. Ford tacked on 20 yards on the ground and was 6-of-12 passing for 110 yards.
THS, 3-0 for the first time since the 2006 season, will put its undefeated record on the line Friday when it travels to Class 5A Mill Valley. The Jaguars (3-0, 2-0) also pitched a shutout last week with a 38-0 victory at Basehor-Linwood.
"We'll just continue working hard," Troyer said. "We'll look at film and see what they're like, and we'll go from there."
Score by quarters
PHS 0 0 0 0 — 0
THS 14 7 7 0 — 28
First quarter
THS — Wyatt Weeks 49 pass from Tyler Ford (Eric Tate kick), 9:42
THS — Ben Johnson 15 pass from Ford (Tate kick), 4:05
Second quarter
THS — Shane Levy 4 run (Tate kick), 7:12
Third quarter
THS — Levy 6 run (Tate kick), 5:36
Fourth quarter
No scoring
Rushing
PHS: Tanner Eikenbary 8-28, Sterling Owens 13-17, Dion Saunders 2-15, Travon Jones 2-8, Colton Beebe 4-4; THS: Cole Holloway 20-96, Shane Levy 9-50, Tyler Ford 12-20, Jared Sommers 3-15.
Passing
PHS: Eikenbary 12-27-2 89; THS: Ford 6-12-0 110.
Receiving
PHS: Jake Jones 3-30, Saunders 4-28, Maverek Dearinger 1-14 T. Jones 2-10, Beebe 2-7; THS: Wyatt Weeks 2-52, Ben Johnson 2-38, Levy 2-20.