McLouth defense steps up in win vs. Christ Prep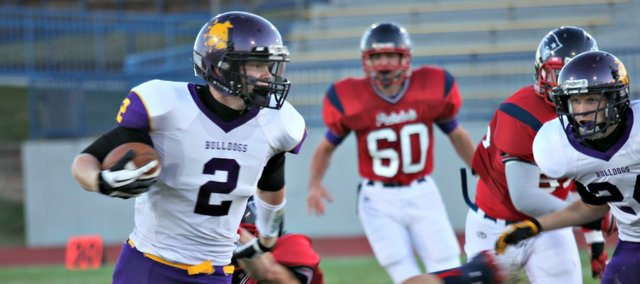 Kansas City, Mo. — In a game in which McLouth High's offense doubled up its opponent for most of the night, it was the Bulldog defense that provided some late heroics to hang on for a win.
MHS stopped two fourth-quarter drives in its own territory to preserve a 6-0 victory against Christ Preparatory Academy Saturday at Center High School.
Neither team found the end zone through the first three quarters, but Drew Cerny gave the Bulldogs (2-1) a chance when he returned a punt 18 yards to the 50-yard line in the final period. A few plays later, quarterback Jack Courtney hooked up with Nick McAferty on a 30-yard touchdown pass, giving MHS a 6-0 lead with 8:18 remaining.
McAferty noticed a mismatch in the Christ Prep secondary and suggested a pass play to coach Chris Stewart, who then allowed the senior to make the call.
"We probably should have been doing a little bit more of that the whole game," Stewart said. "We figured they'd probably man him up with their best guy, but they didn't, so that kind of left him open."
MHS forced a three-and-out on the ensuing possession and the offense ran nearly two minutes off the clock, but a bad snap on a punt attempt gave the Patriots (2-1) the ball at the Bulldog 20. CPA drove inside the 10, but McLouth got a stop on fourth down and took over with 1:22 left.
The Bulldogs gave the ball back two plays later when Cerny fumbled at the MHS 40, but once again, the defense was up to the challenge. The Patriots netted negative yardage on the drive, and McLouth was able to kneel out the clock to secure the victory.
"In the first half, we were stopping them every single drive, so that's what we kept saying out there," McAferty said. "We stopped them every other time, so why can't we do it now?"
Despite the final score, the Bulldogs out-gained Christ Prep, 324-210. They limited the Patriots to just 64 rushing yards. CPA quarterback Tanner Metzdorf threw for 146 yards, but completed just three of his final 14 attempts.
"I think that says a lot about (the defense)," Stewart said. "In the long run, that just makes our defense that much better. If we need a stop, we know we can get it, so that's really gratifying."
Cerny led the Bulldog rushing attack with 109 yards on 24 carries and Courtney was 7-of-11 passing for 82 yards. McAferty played a role in all facets of the offense with 98 receiving yards, 64 rushing yards and 26 passing yards.
MHS drove into Patriot territory on its first four drives of the game, but came up empty each time. The first drive ended with an interception in the end zone, then the Bulldogs stalled on fourth down twice inside the 30, and the next scoring chance was squandered when Cerny fumbled at the 32.
"They've got a pretty good football team, and we knew they did," Stewart said. "Even though we were driving, their defense was stopping us when they needed to. I was really impressed with that."
The Bulldog defense kept the game scoreless, though, limiting CPA to just 97 yards in the first half. The Patriots punted on each of their first four drives and failed to cross midfield until their final drive of the half. Metzdorf got CPA inside the Bulldog 20 with a 44-yard pass to Chase Stamatis — accounting for nearly half of the team's first-half yardage — but the drive ended when time ran out in the second quarter.
McLouth will welcome Olpe (1-2) to town at 7 p.m. Friday for a non-league meeting at Stan Braksick Sports Complex. The Eagles handed the Bulldogs a 13-12 loss last season at OHS. They enter the game with some momentum after defeating Jefferson County North last week, 49-7.
Score by quarters
MHS 0 0 0 6 — 6
CPA 0 0 0 0 — 0
Fourth quarter
MHS — Nick McAferty 30 pass from Jack Courtney (kick failed), 8:18
Rushing
MHS: Drew Cerny 24-109, Nick McAferty 13-64, Jace Carlton 1-3, Jack Courtney 9-2; CPA: Will Cook 12-50, Tanner Metzdorf 9-24, Isaac Smith 1-(-2), Gabe Jones 2-(-2), Matt Dawdy 1-(-6).
Passing
MHS: Courtney 7-11-0 82, Cerny 2-4-1 38, McAferty 2-2-0 26; CPA: Metzdorf 14-31-0 146.
Receiving
MHS: McAferty 7-98, Courtney 2-26, Cerny 1-14, Kevin Gann 1-8; CPA: Chase Stamatis 5-77, Dawdy 3-27, Smith 2-14, Sterling Knight 1-11, Levi Mann 1-9, Jones 1-8, Cook 1-0.