Chieftain soccer falls at Mill Valley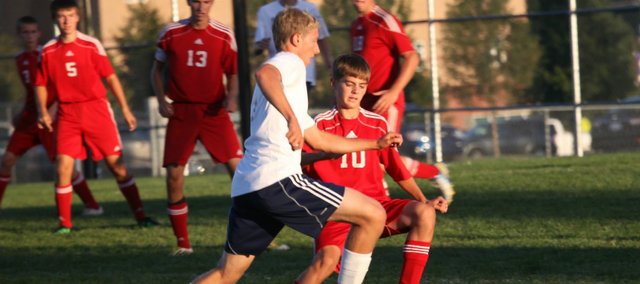 Shawnee — Fresh off its second win of the season — a 3-0 victory Friday against Maranatha Christian Academy — the Tonganoxie High soccer team challenged one of the Kaw Valley League's best for more than a half. However, a few late goals made for a score arguably more lopsided than the game itself.
The Chieftains trailed by just two goals at halftime, but couldn't keep up late in a 5-0 loss Monday at Mill Valley.
Despite playing with the wind at its back in the first half, THS (2-6, 0-4 KVL) spent most of the period on its own side of the field. Mill Valley (5-1-1) got on the scoreboard when Christian Howe caught Chieftain goalkeeper Alex Kroll out of position midway through the half. Howe's first shot bounced off the post, but he corralled the loose ball and tapped it into the net with 23:31 remaining.
The score remained 1-0 until Zach Huston got a ball just inside the left post with 2:45 left until halftime, and the Jaguars took the two-goal lead into the break.
"I mixed up some things and gave them a completely different formation tonight, and it held Mill Valley at bay for a while," coach Brian Kroll said.
Mill Valley made it 3-0 when Bailey Weeks scored on a corner kick less than eight minutes into the second half, and Colton Chapman and J.D. Dandridge each added a goal down the stretch to provide the final margin of victory.
"I feel like our team chemistry is finally starting to come together a little bit," said Brian Kroll, who noted Mill Valley recently played Class 6A powerhouse Shawnee Mission East to a 1-1 tie. "When you're out-classed play-wise, you can tend to get really frustrated really quick, but we never did. We maintained our integrity and stayed to the game plan, and it worked out really well for us."
The Chieftains will be back in action when they play a rare Saturday game at Frontier League opponent Eudora. The junior varsity squads will open at 10 a.m. and the varsity game will immediately follow. THS went 2-0 against the Cardinals last year, winning once in the regular season and again in a regional matchup.