Local man faces challenges years after traumatic brain injuries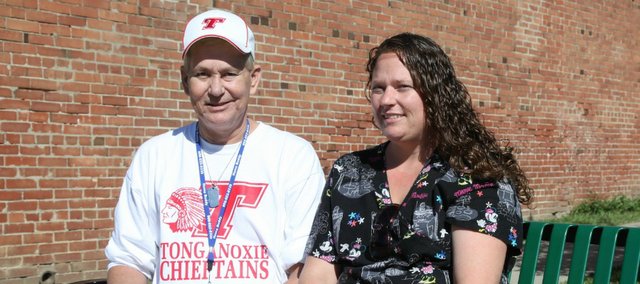 Ronnie Wishon's road to Tonganoxie has been filled with unthinkable events.
He has suffered three traumatic brain injuries, the first two resulting from vehicle accidents and a third from a mugging outside his home that left him in a coma for months. In early 2012, he was diagnosed with prostate cancer. It's in stage 3 and he begins radiation treatments Monday.
The injuries and cancer diagnosis gave Wishon uphill battles, but he meets them head on and pushes forward.
"For me, all I got is faith," Wishon said. "I live just for today with my life because that's how I feel. "
Wishon, now 52, suffered his first injury in 1986 when a drunk driver sideswiped his vehicle.
During the second, in 1991, a driver made a U-turn in the middle of the highway and failed to stop, Wishon said. His vehicle T-boned the other car.
Though severe, the wrecks didn't compare with an incident in 2005 outside Wishon's Salina home. Wishon said he was robbed, mugged and beaten that day. He remained in a coma for six months after the attack. Head injuries sustained in the mugging were so bad that they caused Wishon to lose his sense of smell. He also had to relearn how to walk, which took more than a year.
His caregiver, Carla Butler, said the injuries have affected Wishon's speech, cognitive skills and emotions. Wishon visits the Kansas University Hospital weekly for speech, occupational and physical therapy sessions. He said the sessions are beneficial, but he still battles conditions the beating caused. His doctors say he is likely to remain at his current level for the rest of his life.
"His mind functions as an adolescent teenager," Butler said.
He has other side effects due to the beating.
"His left side continually goes numb," she said. "He could be walking through a parking lot and he'll fall, which is all related to the brain injury."
A support group
Wishon moved to Tonganoxie in July to be closer to his specialists at KU Hospital in Kansas City, Kan.
"I decided on Tonganoxie because I really like Tonganoxie," he said. "It's small. I'm an ex-farmer and rancher and felt more relaxed here. I think the town looks super, super nice."
He also likes to visit Chieftain Park to play basketball with his physical therapist and The Downtown Drugstore because of the pop and candy offerings. It reminds him of visiting the local drugstore back home when he was a youngster.
"I think our downtown is so cool and old-fashioned," Wishon said. "The people are really nice."
He also finds companionship with his poodle, Rodeo.
"It's my best friend," Wishon said.
Butler said the effects of Wishon's brain injuries have caused a separation from loved ones, who don't understand why his behavior has changed. He hopes to work again, but so far his physicians have not cleared him.
"We don't know whether that will happen," Butler said. "But if it does, he can go through vocational rehab and they can help him find a job."
Through the years of dealing with traumatic brain injuries, Wishon has spoken at the high school and college levels, as well as nursing homes and medical seminars about his experiences. He's also written several pages about his journey and his faith in Jesus Christ.
Through his writings and discussions, Wishon said he hopes to educate more people about traumatic brain injuries.
"It's a hidden disability," Wishon said.