THS

cross country sweeps team titles at home meet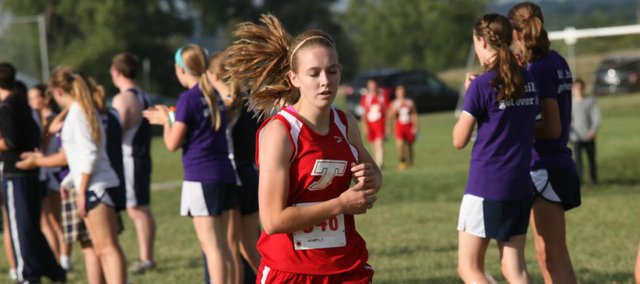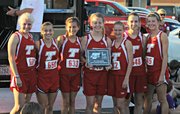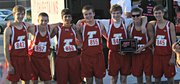 The Tonganoxie High cross country teams protected their home course Tuesday, sweeping the boys and girls team titles at their home invitational at Tonganoxie Middle School.
The meet was the first live competition for the varsity squads since hosting Lansing in a dual on Sept. 5. The Chieftains were supposed to run last week at the McLouth Invitational, but the meet was postponed because of inclement weather.
"It did feel a little weird to have those two weeks off," coach John Tollefson said. "We've worked really hard these last couple weeks to not let any negativity and doubt creep in, and we've just been training hard."
The THS girls finished with 29 points — 22 better than second-place finisher Pleasant Ridge and 54 ahead of third-place Spring Hill.
Emily Williams led the team, finishing third individually with a time of 15:85.07. She was one of five Chieftains to finish in the top 10. Tressa Walker (16:09.1), Emily Chambers (16:09.74), Isabella Behm (16:14.66) and Nicole Zerrer (16:22.91) occupied spots 5-8.
"Of those top five girls, they were all close or below the top girl's time from when we ran here against Lansing," Tollefson said.
Sophia Wetta came in 12th with a time of 16:43.73 and Kourtni Freemyer (18:54.78) rounded out the varsity squad with a 29th-place finish.
The boys won their race with a score of 38, finishing ahead of Spring Hill (60) and Pleasant Ridge (81). Garrett French (17:04.39) and Drew Cook (17:19.41) paced the Chieftains, finishing fourth and sixth, respectively. Just like the girls team, the Chieftains had four boys in the top 10. French and Cook were joined by Dylan Staatz (ninth, 17:39.42) and Ethan Phillips (10th, 17:39.62), who crossed the finish line almost simultaneously.
"The boys certainly did a better job of running as a group today than they have," Tollefson said. "It was a beautiful day to run, the weather was perfect, and they really ran well."
Brad Andrews (17:49.67) and Andrew Behm (17:54.41) just missed the top 10, placing 12th and 13th, respectively. Justin Patrick (1936.67) also ran and came in 27th.
THS will have a short break before it returns to competition Saturday at the Rim Rock Farm Classic in Lawrence.
Girls team results
Tonganoxie, 29; 2. Pleasant Ridge, 51; 3. Spring Hill, 83; 4. Piper, 93; 5. Bishop Seabury, 106.
Boys team results
Tonganoxie, 38; 2. Spring Hill, 60; 3. Pleasant Ridge, 81; 4. Kansas City Christian, 86; 5. Piper, 108; 6. Bishop Seabury, 119.
THS girls individual results
Emily Williams, third, 15:58.07; Tressa Walker, fifth, 16:09.1; Emily Chambers, sixth, 16:09.74; Isabella Behm, seventh, 16:14.66; Nicole Zerrer, eighth, 16:22.91; Sophia Wetta, 12th, 16:43.73; Kourtni Freemyer, 29th, 18:54.78.
THS boys individual results
Garrett French, fourth, 17:04.39; Drew Cook, sixth, 17:19.41; Dylan Staatz, ninth, 17:39.42; Ethan Phillips, 10th, 17:39.62; Brad Andrews, 12th, 17:49.67; Andrew Behm, 13th, 17:54.41; Justin Patrick, 27th, 19:36.67.