Game notes:
THS

football at Mill Valley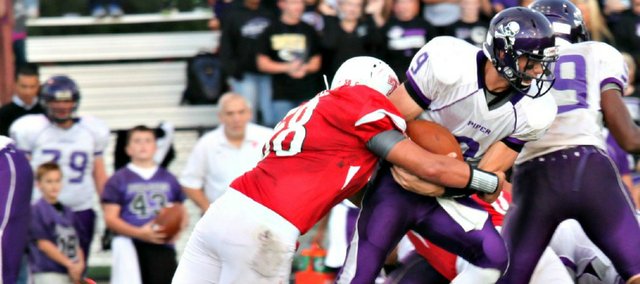 A pair of unbeaten teams will put their perfect records on the line Friday when Tonganoxie travels to Class 5A Mill Valley for a Kaw Valley League clash. The Chieftains (3-0, 2-0 Kaw Valley League) will try to build on their best start since 2006, while the Jaguars (3-0, 2-0) are out to improve on last year's 8-1 regular season.
Meeting No. 10
Mill Valley and Tonganoxie have played nine times since their inaugural meeting in 2002 — a 12-6 MVHS victory. THS won three of the first five meetings, but it's been all Jaguars since then. They've won the last four contests by an average of 46.8 points, including last year's 59-0 victory at Beatty Field. The Chieftains' last win in the series was a 28-7 decision in 2006. The teams didn't play in 2008 or 2009.
Defensive showcase
Both teams pitched a shutout last week — Tonganoxie in a 28-0 win against Piper and Mill Valley in a 38-0 victory at Basehor-Linwood. Each squad has allowed just one offensive touchdown and less than 400 total yards in its last two games combined.
Both defense were at their best last week. THS gave up just 161 yards to Piper, while Mill Valley limited Basehor-Linwood to just 69, including zero net rushing yards. The Jaguars are giving up 115.3 yards per game on the ground, but will face a Chieftain offense averaging 336 per contest.
"Week in and week out, it's a challenge," coach Al Troyer said. "Every team we play is going to try to stop us on the run, but we've got to just keep getting better at what we do offensively. We've got to use one of those backs to find a crease and find something that's working."
Cole Holloway has led the charge, rushing for 452 yards, while Tyler Ford and Shane Levy have added 314 and 202, yards respectively. Jared Sommers has also played a role in recent weeks, running for 45 yards in the last two games. As a team, the Chieftains have 13 rushing touchdowns.
Three-headed monster
Injuries have plagued Mill Valley through its first three games — particularly at quarterback — but the Jaguars have multiple players capable of stepping in at the position. Logan Koch, Ty Bruce and Dylan Cole have all seen time under center. Koch has put up the biggest numbers, rushing for 412 yards, throwing for 200 more and accounting for eight total touchdowns.
Koch missed last week's game with an undisclosed injury and his status for this week is unknown. Bruce started in his absence and has thrown for 31 yards and a touchdown to go along with 163 rushing yards and a score. Cole has seen spot time in all three games.
"That just shows you the size of the program they have," Troyer said. "I don't know how many they have on their team, but they have a lot of numbers. They don't have anybody who goes both ways. That puts us at a little disadvantage toward the end of the game, but our kids are up for the challenge."
Immovable objects
Each team's defense has caused plenty of problems in the backfield throughout the young season. MVHS has 18 tackles for loss, including 11 sacks. Meanwhile, THS has stopped 11 plays for negative yardage, including six sacks. Mill Valley's Micah Clarke and Tonganoxie's James Grizzle have led the way with three sacks each.
The Chieftain defense has give up just 52.6 rushing yards per game and hasn't allowed any individual player to run for more than 28 yards. However, the Jaguars average 283 yards and have scored 10 touchdowns on the ground behind one of the league's largest offensive lines.
"We take a big offensive line as a challenge," Troyer said. "We still want to shut down the run, and they do a great job of running option football and the zone reads. We've just got to play assignment football and make sure we're in the gaps so they don't have those cutback lanes."
Spreading the love
Friday's game will feature 16 players that have scored at least one touchdown this season. Nine Jaguars and seven Chieftains have crossed the goal line in 2013. Koch and Levy lead their respective teams with five scores each.
Early-season recognition
Local football enthusiasts have taken notice of Tonganoxie's hot start, as was made evident by a pair of awards this week. The Kansas City Chiefs named Troyer the Chiefs High School Coach of the Week on Tuesday, and the Chieftains were named the KCTV5 Hy-Vee Team of the Week on Wednesday. THS defeated KC Washington, Blue Springs (Mo.) and Kearney (Mo.) in an online vote to win the award.
"Our word for this week is 'humility.' We want to give everyone else the credit," Troyer said. "As a head coach, I have a great coaching staff. It's a great asset. The kids, they've worked hard and they've risen to the occasion of every challenge. Accolades may come and go, but these kids will always be here. It's about everyone playing for the same purpose."