Tonganoxie man who has suffered 3 traumatic brain injuries writes about public awareness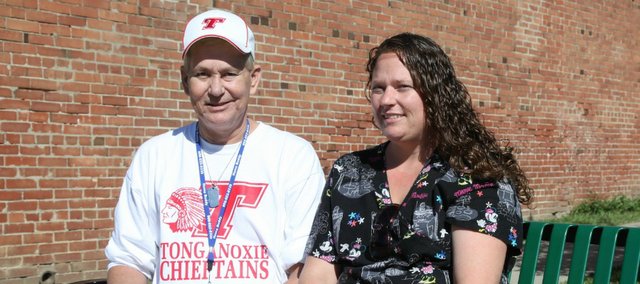 Public Awareness for the Public and the Disabled
True story of a survivor dealing with what is next in life...
I've walked it, heard it, seen it, and lived in yesterday. It's still today expectations if you didn't make any decisions to make the differences for today that leave us paralyzed with fear in today's world for all of us — the disabled — and the untrained eyes.
I had no clue what was happening to me, it leaves me paralyzed with fear in this world. I try to sum it up in my head and it comes back to me. It's a fact that I caused it; because everything that happened to me was something I did. The fact is that I don't think I could have changed a single thing and that haunts my every dream. The bitter truth is the pain of my reality and my actions. By the time I was beginning to understand what was happening to me in my world, it was already too late.
I wake up with the same nightmares every night and every morning the one's that I made come true. I know if I believe in something strong enough it will happen, even if it's the last thing in this world I really want to happen. In my imagination's reality it is very hard for me, it sends shivers up my spine. The feelings I go through that are deep inside my soul that consumes every breath I take. Yet surviving my traumatic brain injury, I wonder about waking up another day. I learn to deal with all my regrets that I could not change and it repeats itself over and over again. A lot of things are greater than itself, but you are left as a follower.
I don't want to follow; I just want my life back. People tell me life is where your heart is, and I ask myself where is mine or has it vanished into thin air.
My family, friends, colleagues, disappear one by one by the unknowing of what I have done hours before. My children who mean more than life itself to me are taken away from my life by ignorant people. I have had this all happen right in front of my eyes. The feeling of being totally lost in a world that seems to be out to destroy any purpose I may once had because they refuse to understand. I know people are saying I look fine and they will assume I am, and I try to act fine wanting them to think I am. I try with all my energy to be how I am, but it doesn't seem to be fast enough. Everyone wants to see it happen for the good now and it's hard to meet their expectations. The harder I try the more stressed and confused I get. With all the trails I have to deal with, it's just the beginning of my healing.
Most of the time my life falls apart before I even begin to start healing. My life has been tormented by those that once loved me, but it has been an existing torment for hoping they would at least understand, or help me work on it. I can't blame people that seem to understand normal human reactions; and that every action is followed by a reaction so don't take it personal and work with me through these feelings or others with TBI's or other disabilities because it will take time and a lot of love for growth.
The path we take might be involved in the process of interrupting what might be answers. You become distracted by a system that has been irrelevant for many years.
The past of unaccountability and bad choices. The next thing we know people are looking at me to make it a relevant one with a purpose, one that might find it to help find the answer. Like myself I find out these awful nightmares are happening to all of us disabled survivors. The answer is right here, but no one can find it for us.
With all the support out there its hard to go through the obstacles. I realize how lucky I am because we all have a purpose in life. There are others I meet that are dying and wanted to commit suicide because of not knowing if the next day is worth living or is that part of death which today is all we have.
Some of us wonder if we are forced to live a life or a death. Every ounce of life from our soul was robbed and played with. Our use of alcohol and drugs enable the choices to make decisions to live with ourselves. People think we deliberately think life is too short and I know I have to accept the fact that I have a TBI and
need to learn in time. I do want to be good, fine, or healed, which is a lifetime healing and that what I want now which is to have people in my life again. My pain only made it worse for myself and others. I now made the one's I cherished and loved the most run away, and it just made me more worthless to them and myself.
With every relationship that I've been in since my TBI they would just disappear and the ability to rebuild new ones wouldn't exist just because I'm unable to control my feelings and the fear to get close just to lose them again. I struggle to know how to be appropriate. As always said "just because" and that pushes me to quit so it won't exist.

It does become the willing to want to live but still just doesn't exist. It comes down to the will to live. Just imagine every emotional connection you ever had in life just stops, and you try to reconnect but you just can't. You just watch yourself, trapped in emotions that you can't control. It's like with every crazy uncontrollable action thrown away like dust settled around the trash can then you throw it away.

You think to the Lord, do I have to live or is it time for me to die, when people see that it only chases people further away. Then I would want to get out of everyone's
way, not wanting to cause anymore pain because you are in my life. As I try to get out of people's way so we don't hurt each other. They take that as a personal attack on them, and they react and want to hurt us more.
"Why?"
I don't know but I pray everyday for the critics that are gossiping at the disabled and I like to let them know that we are not gullible of them judging us and laughing at the disabled because it could be them next. Like God's words say in Peter Chapter 3: THE DOG IS TURNED TO HIS OWN VOMIT AGAIN. I've also heard from others in the public that experience the same hurtful gossip about them as I do, but still it leaves us disabled hanging out there with no expectations of dealing with the pain of gossiping that stays with us until the next time it happens which could cause some of us to act out.
I try not to blame everyone, but as I reach for forgiveness in my heart knowing that the pain I am holding deep inside my soul, is keeping me in this prison deep in myself saying we should treat people like we want to be treated. It seems that I'm forced to live with no meaning. Through all my pain, opportunities that come my way are beyond this world of mine. I'm always trying to find peace in my life and it gets stripped away from me like I'm some kind of criminal or something. This causes me to react on my inflicting pain until there is nothing left. I am drawn to be good, and I find strength to keep going because it fuels my soul. My hope of finding answers so far has been a journey, and all the resources that I have found along the way will either make it or break my hopes. I guess thats why it's been so hard and it's right there why can't everyone see it, and or why can't I see it, why can't I hold it or feel it?
The darkness inside me screams to get out, because my thoughts are faster than I can comprehend. A horrific vision of tomorrows with no hope not even dreams that I wish it never had to happen. My everyday living with a purpose I no longer understand or control. I'm stuck in a prison within my own mind. I wonder when this will ever stop and how much more I can take. I ask God, I will do what it takes for what he puts in front of me no matter how hard it is. The realization is how it needs to be, and this is how it has to be, to have me praying of the day when there is no more pain. Everytime I pray I beg God to put an end to all this pain. It's very sad for the people who I love never realize how hard I try to find the answers. I had a chance to find myself, but the truth of it — I would never be able to take the actions or therapy to be able to help me until now. It goes to show how funny and confusing life really is and it's truely not all about me, but others with diabilities. I'm very careful what I pray about, but I vow to do his work in my life through faith. In the end, I have faith that God is working for the good things in my life and recovery because I have all my faith in GOD.
I try to run from reality, now I stop and let God run with the ball in my life. For myself I sometimes dwell on the pain in my life and forget how to love or even feel. I pray to God many times a day and plea to God to let it be finished because I can't take it anymore, and I just want my life back. After my prayers, I ask God to do his will in my life and I will do what you need me to be doing.
I don't want sympathy, everything is of my own doing, and for me to be where I am in my life, and that involves in what I am, and everything that had to happen so I guess to understand I had to die in life, and walk the walk, breath the air and feel all my pains, and that is very complicated for me at times. It makes my injury more complicated when searching for the meanings of my TBI. It's been neither hot nor cold; but I try to live up to my complications which I haven't yet, and I've been blessed with many wonderful things, but I didn't see the values of them until it was too late. I have to take a stand and be the man I'm suppose to be in life in time to come.
I feel very blessed to have the purpose in my life to be able to share my life stories, and how I got to be how I am today. I don't blame anymore but I try to understand what others with other kinds of disablities are thinking or going through and I hope I'm able to help others if that's God's will in my life, for me my story is going to go backwards, relating to the things that are happening now in my life. I guess I'm writing and hoping that I get some understanding of my fears that I need to work on.
I pray that by sharing my story I can help change the outlook in others also suffering with disabilities. So as I walk my paths and know my answers are closer it's like a timer in me, and it's about ready to go off. I don't know how to explain all of this, but either peace or death is near, and the weird thing is I don't care which one it is, as long as the pain and fears are no more and I'm in God's hands as he carries me through my TBI and other tramatic disabilities.