Lady Braves run past Tonganoxie with five-goal first half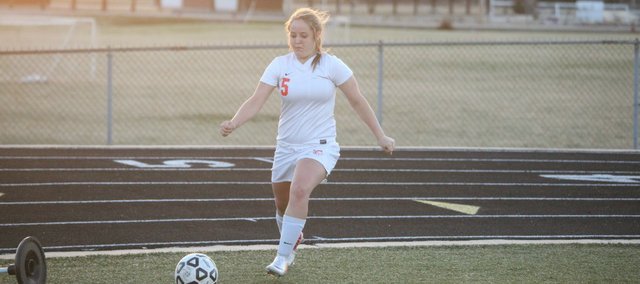 Bonner Springs — Miyah Hightower scored a hat trick in the first half of Bonner Springs High's 5-0 victory against Tonganoxie High on Monday night.
All five Lady Braves goals came in the first half with the first coming just eight minutes into the game.
Coach Mike Moulin said BSHS should have scored more as it squandered some one-on-one opportunities early before netting the five goals.
Julianne Jackson, who scored once, had a shot deflect off THS keeper Lauren Jackson, who was well off the goal line, and all she had to do was tap it into the open net, but a Chieftain defender knocked it out of bounds.
Then Hightower scored minutes later
"She was very patient with that ball," Moulin said. "We talked about that during the offseason. She's got to take the initiative to do more one-on-one. She has the ability to create space and take the shot quick."
Jackson found the back of the next three minutes later, and then Hightower netted her second four minutes after that.
Shelbey Taylor scored the Lady Braves' other goal.
Moulin said the point of the second half was to just win the game and not shut down, because Tongie came back from a 3-0 deficit to win 4-3 last season.
He said his team was gassed after the first 10 minutes of the second half, which showed. The play was a little sloppier. The passes weren't as crisp.
Moulin said that's going to be normal this early in the season, especially for a team that doesn't have depth.
The Lady Braves are missing starting keeper Kennedy Bizzell, who was injured during basketball season.
Sophomore Gwenyth Barrett started in net, and once Bizzell comes back, Barrett will move to back up keeper, and see time in the field.
Barrett was one of seven sophomores to start on Monday.
For Tonganoxie, Jackson seemed to lack confidence. She's only been playing goalie for two years, and she made some nice stops when going side to side, but when she was forced to come out and make a play against an attacker, she was hesitant, giving BSHS an advantage.
THS coach Justin Seever said Jackson is more of a volleyball player.
"She was a little raw, a little nervous," Seever said. "She came out in the second half, and made some saves, and looked like the goalie I remember."
Bonner Springs had the wind in the first half, but Seever didn't rush to blame the wind. He said the Chieftains looked like a different team in the first half than it in the second half.
"I don't think the wind was spring the girls wide open and giving them opportunities to get in (the box)," Seever said. "They smacked us in the face pretty earlier, and it took us the full 40 minutes (in the first half) to get our feet underneath us to compete."