Tonganoxie man discusses father's legacy, importance of parade's green stripe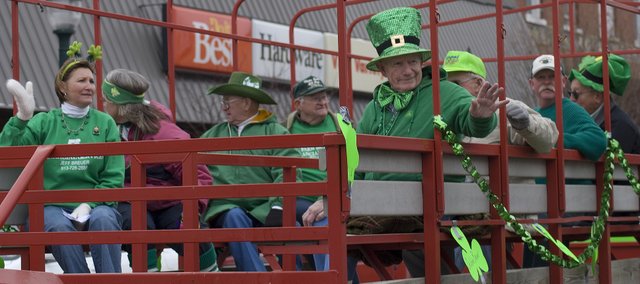 Jim McCaffrey has many fond memories of his late father, John McCaffrey.
He remembers when his father started the first impromptu St. Patrick's Day Parade through downtown Tonganoxie.
In an old truck, the elder McCaffrey led the way.
Just a few cars drove down Fourth Street that day one March in the late 1980s.
Jim McCaffrey was there to see it.
He hopes to see several more in Tonganoxie, but the recent controversy surrounding the painting of the green line down Fourth Street has been unfortunate, he said.
McCaffrey has helped paint the green line for several of the annual parades without any issues. He's helped supply the paint as well.
The city cited Charlie Conrad with criminal damage to property for painting the line early March 15 in advance of the St. Patrick's Parade in downtown Tonganoxie.
McCaffrey later went to the police to inform them he had supplied the paint and thus also was involved.
Police Chief Jeff Brandau said he sent information to City Attorney Mike Kelly about the case. If Kelly were to proceed with any charges, McCaffrey would be summoned by mail to appear in municipal court. McCaffrey said he's not yet received a summons.
Kelly declined to discuss the case. Conrad is to appear later this month in municipal court for the citation.
McCaffrey said the situation has tarnished one of Tonganoxie's strongest traditions.
"The St. Patrick's Day Parade was meant to be a happy day," he said. "It's not a happy day anymore."
John McCaffrey died in 2002. He was a community fixture, coaching youth baseball for roughly 40 years. He also worked as a barber for 46 years.
Jim McCaffrey, who has three daughters, followed in his father's footsteps by coaching them through their youth softball years.
McCaffrey said his father served a major role in the community for many years. The parade's founder forever was Jim's best friend, he said.
The parade also has offered the McCaffreys a chance to reunite in their father's honor.
Jim, as well as brothers John, Bob and Brian and sister Linda served as Grand Leprechauns for the 2013 parade.
"It was the one day of the year our dad lived again," McCaffrey said about the annual parade.
Tonganoxie City Administrator Nathan McCommon said the painting of the line violates city code, but that a compromise could be made. A temporary substance that washes away would be a viable option.
McCaffrey contends that paint can be thinned out and a street sweeper could be used to clean the streets to prevent the line lingering long after March.
McCaffrey said he uses paint that won't stay long. Remnants from last year's parade, though faint, still can be seen. And clover leaves drawn at Fourth and Bury streets painted two years ago still partly show.
McCaffrey said he used a paint on hand that year that turned out to be longer lasting. He said it wasn't used intentionally to last longer on the street.
If an agreement about the line can't be reached, McCaffrey said, his father's parade would happen elsewhere, down a country road perhaps.
Last month, a second line was painted down Fourth Street, days after Conrad's citation. McCaffrey declined to comment on whether he had involvement with that stripe.
Regardless, the tradition, which had gone on for more than 25 years, was meant to honor McCaffrey's father.
"He was the grandest leprechaun our family and this community will ever know," McCaffrey said.