THS

track and field opens Friday in Ottawa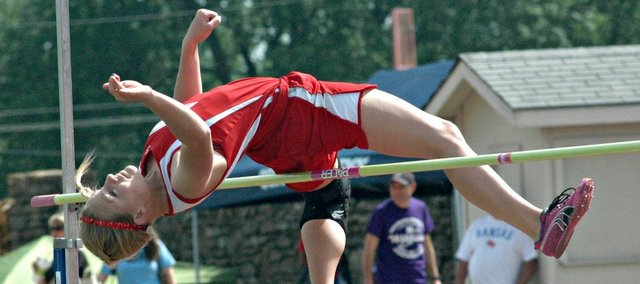 2014 track schedule
April 4, at Ottawa
April 8, at Lansing
April 11, at Basehor-Linwood
April 16, at Tonganoxie
April 24, at Eudora
May 2, at De Soto
May 9, at Piper
May 14, at KVL (Piper)
May 23, at Regionals (TBA)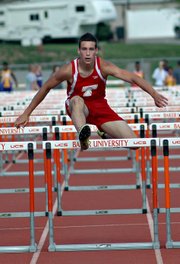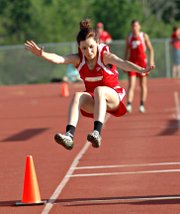 When spring practices began on March 3, track and field athletes across the state began their potential journeys to the state meet, set for late May in Wichita. A select few athletes at Tonganoxie High have their sights set on returns to Cessna Stadium, while others hope to make their debuts at season's end.
The Chieftains will take the first step toward those goals Friday when they open the 2014 season at the Ottawa Invitational.
Senior Ben Johnson is the boys only returning state qualifier after making the cut in the high jump and 100-meter hurdles last season — his first on the team. A regular in four events, Johnson also made plenty of noise in the triple jump and 300-meter hurdles as a junior.
"The big thing with Ben is we need to have him continue to improve," boys coach Scott Peavey said. "He was new to the sport as a junior, so he still has a long way to go, but his talent and athleticism are just through the roof."
Junior Devan Smith and sophomore Dylan Staatz will join Johnson in the high jump. Smith, who will also compete in the triple jump, returns after an eighth-place regional finish, while Staatz is new to the program.
Seniors Cody Snyder and Clayton Neas return in the discus, and Snyder will also throw shot put again this season. Meanwhile, Junior Levi Koch will look to improve on his eighth-place regional finish in the javelin. Junior pole vaulter Brad Andrews also returns with field experience.
The Chieftains will also have plenty of experience in running events. Seniors Noe Puebla, Maleak Gibson and Cole Holloway return as the team's top sprinters, while sophomore David Scharff will try to make an immediate impact in his first track season.
"Field events are going to end up carrying us again, but it's good having a lot of those kids who had success in football," Peavey said. "We have a good core on the track that know how to win and compete."
On the distance side, junior Garrett French is back after taking ninth at regionals in the 3,200-meter run last season. Andrews also brings some distance experience to the table, and senior Evan Stilgenbauer returns after not competing as a junior. Additionally, freshman Drew Cook will try to build on a successful cross country season last fall.
The THS girls will open their first season under coach Preston Troyer, who takes over for longtime coach Chris Weller. Troyer is in charge of the hurdle and middle distance events, but said it's been a relatively seamless transition in his first preseason.
"There's obviously some different philosophies here or there, but overall, I think it's been good," Troyer said. "The girls have worked hard and it's been a pretty good transition."
Senior Haley Griffin and junior Jackie Whitledge headline the girls team, as each have multiple years of state experience. Griffin is a three-time top-10 finisher in the high jump, while Whitledge is a two-time state long jumper.
Griffin, who will jump next year at Wichita State University, was a state runner-up as a sophomore. She took third last year behind former teammate Jenny Whitledge and Independence's Shania Vannoster.
"She's been all focus from what I can tell," Troyer said of Griffin. "She's jumped really well in practice, and she wants to get over that hump. Her focus right now is getting better each week."
Jackie Whitledge was at her best late last season, setting a personal record of 17 feet, 2.5 inches at regionals. She took eighth at state as a sophomore and 16th as a freshman. Troyer said Whitledge will likely try her hand as a sprinter this season. She hasn't competed in sprint events since early in her career.
The Chieftains return their entire 4x800-meter relay team, which won a Kaw Valley League title and just missed a state cut last season. Juniors Kourtni Freemyer and Tressa Walker and sophomores Sophia Wetta and Nicole Zerrer will try to improve on their sixth-place finish, in which they tied their league championship time of 10:35.68.
"They've been doing great at workouts so far, so they just keep going down on their time," Troyer said. "Maybe having some success earlier will build some more confidence."
Walker, Wetta and Zerrer also earned top-10 regional finishes in various individual events, and Freemyer also competed as a pole vaulter.
Following Friday's meet at Ottawa, THS will make trips next week to Lansing and Basehor-Linwood. A complete schedule is available at tonganoxiemirror.com.