McLouth softball eyes return to state
Bulldogs open today at Perry-Lecompton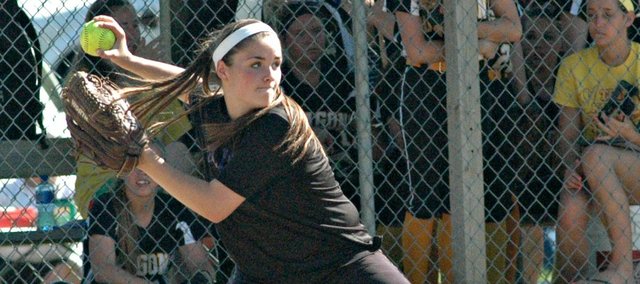 2014 softball schedule
April 3, at Perry-Lecompton
April 10, vs. Immaculata
April 14, at Pleasant Ridge
April 21, vs. Troy
April 24, at Valley Falls
April 28, vs. Maur Hill
April 30, vs. Washington
May 1, vs. Oskaloosa
May 8, vs. Doniphan West
Each of the last two years, the McLouth High softball team has watched its shot at state fall just one game short. With a young but veteran team full of regular starters back in 2014, the Bulldogs are ready to show they can clear the final hurdle at season's end.
Powered by two college signees and four 2013 all-league selections, the Bulldogs — now members of the Northeast Kansas League — will begin their quest for state at 4:30 p.m. today at Perry-Lecompton.
"We're a program where we feel like state is the end of our season, but for the last two years, we've come up a little bit short," said coach Ballard Patterson, whose team went 16-5 a year ago. "This year, we've got to get that momentum built and get back there. Our goal is to get to that 18- or 19-game win level that we're used to."
Patterson must replace a trio of 2013 grads in infielders Alex Adams and Marrisa Raya and catcher/outfielder Taylor Pope, but returns players with experience at nearly every position. Seniors Konner Patterson and Amber McCown will lead the charge after signing with Highland Community College and Southwestern College, respectively. Konner Patterson, a three-time All-State and All-Delaware Valley League selection, will start at third base. Meanwhile, McCown will start at catcher after splitting time with Pope last season.
The seniors were on the last MHS state team as freshmen, and with a pair of regional championship losses fresh in their minds, they are determined to take the extra step to end their careers at the Class 2-1A tournament May 29-30 in Great Bend.
"It's a lot of motivation," Konner Patterson said. "We know what it feels like to be dominant and win games, so we just want to get back to state."
Sophomore Shannon Greene and junior Angela Dailey return after starting nearly all of last season in the pitcher's circle. Greene, an All-DVL first-teamer in her first high school season, will also play first base when she's not pitching, and Dailey will see time in left field. When Greene is pitching, fellow sophomore Shelby Turner will play first. Turner also pitched significant innings late last season.
Sophomore transfer Shannon Brown will start at shortstop. She was an All-DVL honorable mention utility player as a freshman at Pleasant Ridge. Junior Olivia Coulter will round out the infield at second base.
Senior Kayla Steffey, who will split time between softball and track, will vie for time in right field, while sophomore Dominique Tullis will start in center after earning an all-league first-team nod as a freshman.
"We have a young team this year, but it's pretty exciting to know these young kids are going to make such an impact on our team," McCown said. "We've been helping them out a lot."
The Bulldogs will see their first home action April 10 against future 2-1A regional host Leavenworth-Immaculata. The five-team regional field will also include Doniphan West, Troy and Valley Falls. MHS went a combined 7-1 against those teams last year with its only loss coming at Valley Falls in the regular season.