Face to Face: Tonganoxie
EAST

member and First City's

PAST

re-enactor Keyta Kelly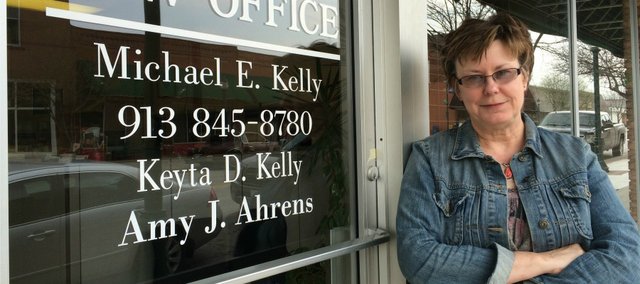 Name: Keyta D. Kelly

Born: Carbondale, near Topeka. She went to Santa Fe Trail High School.
Family: Married Michael E. Kelly in 1982. Three Children: Rachel Kelly (Tonganoxie), 29; Kaitlyn King (Bonner Springs), 28; and Garrett Kelly (Chicago), 26.

Occupation: Attorney

Dream job as a child: Tour guide
Digging deeper: Kelly has two granddaughters, Wynni, 18 months, and Libby, 1 month.
"I am happy when I get any opportunity to spend time with them," she said.
Kelly is active with Tonganoxie's Entrepreneurs Achieving Success Together and First City's Performers and StoryTellers, or PAST.
"The purpose of the group is to bring local history to life in a fun and interesting manner through first-person narratives, skits and storytelling," Kelly said.
The group has existed for five years and has about 10 members.
This summer, Kelly will be working with others to present the inaugural Kirby McRill 5K Walk. It will celebrate Chieftain Trail Phase II and commemorate local legend Kirby McRill, who "encouraged participation in the healthful and delightful exercise of walking," Kelly said.
McRill was a little bit eccentric, as will be the walk, Kelly said, with silly challenges along the way. Each challenge must be completed before continuing with the walk. Proceeds from the walk will benefit Heartland Habitat for Humanity and be used for the Brush with Kindness Program in Tonganoxie.
Kelly said she also likes spending time with her husband. He has a Miata and the couple sometimes joins other Miata enthusiasts from Kansas and Missouri for drives and visits to local attractions.
"There is absolutely never any downtime in my life, but that's the way I like it," Kelly said.