THS

soccer blanked by Mill Valley in home opener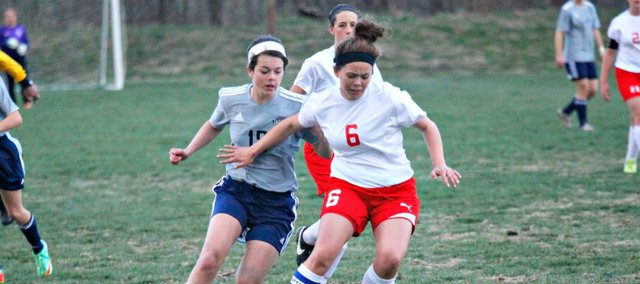 MVHS 10, THS 0
First half scoring
Kacie Kinley (MV), 28:53
Kacie Kinley (MV), 23:56
Claire Rachwal (MV), 18:46
Claire Rachwal (MV), 3:57
Second half scoring
Claire Rachwal (MV), 38:20
Kacie Kinley (MV), 34:40
Michaela Remijio (MV), 32:02
Kennedy Hoffman (MV), 27:39
Michaela Remijio (MV), 9:54
Haley Freeman (MV), 7:17
The Tonganoxie High girls soccer team suffered its fourth loss in as many games Monday, dropping a 10-0 decision to Class 5A Mill Valley at Chieftain Park.
The Chieftains (1-4, 1-3 Kaw Valley League) battled the Jaguars in the game's opening minutes, but MVHS broke through with a goal by Kacie Kinley with 28:53 to go until halftime. Kinley scored again about five minutes later and Claire Rachwal added two scores of her own for a 4-0 lead at the break.
"They were running a very aggressive formation and we were having a terrible time keeping track of people," coach Justin Seever said. "We kept drawing in our outside (midfielders) to mark, but when we didn't, we would lose runners through the middle.
"You can call it youth or inexperience, but being personally responsible for 80 straight minutes is pretty tough to do. We weren't on their level today."
The Jaguars continued to pile it on after intermission, scoring four more times in the first 12:21 of the second half. Rachwal capped off a hat trick with a goal just 1:40 into the period and Kinley followed suit less than four minutes later, then Michaela Remijio and Kennedy Hoffman each got on the board to make it 8-0 with 27:39 left.
Remijio scored again just inside the 10-minute mark and the mercy rule went into effect when Haley Freeman scored off a deflection with 7:17 to go.
THS hasn't won a game since its season opener — a 7-1 victory March 26 at Bishop Ward. The Chieftains went 0-3 last week, losing to Bonner Springs, Spring Hill and Lansing by a combined score of 15-1. They have been shut out in three of their first five games.
"I feel like we've learned about ourselves, but we've got more question marks than answers, to be honest," Seever said. "We're still trying to grow as a young defense, so that makes it a learning experience. I still don't know who our strongest 11 are. It take a little while to get it."
The junior varsity team also suffered a 10-0 setback, falling to 1-2-2.
Seever's squad will try to get back on track Thursday when it travels to Frontier League opponent De Soto, a third-place finisher in last year's Class 4-1A state tournament. The Chieftains will return to league play Monday at Piper.