Tonganoxie thrift store buys downtown property; Leavenworth investor buys former Bichelmeyer's Steakhouse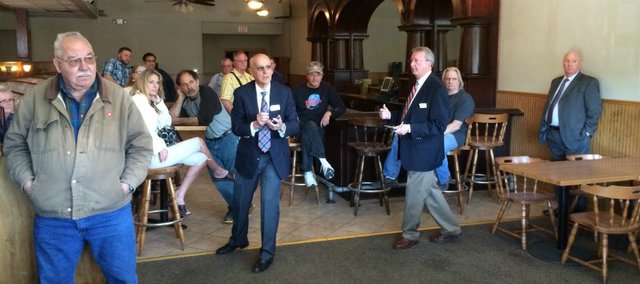 A longtime thrift store will have a new store and a property investor looks to spruce up a closed restaurant, thanks to downtown Tonganoxie property acquisitions today.
Connie Baxter-Schmidt of Leavenworth purchased the former Bichelmeyer's Steakhouse at a public auction Wednesday, while Good Shepherd Thrift Store and Food Bank acquired the property to the west in the last few days.
Baxter-Schmidt had the winning bid today of $75,500. With additional fees, the property sold for $82,500.
She said she likes historical buildings and was drawn to the former steakhouse because of its history and because of Tonganoxie itself.
The town is nice and clean, she said and people are friendly.
Asked what she planned to do with the building, she said "we may be in the restaurant business now."
The building requires improvements, but she said once those are finished, she also might look to lease the building out to someone for a restaurant.
Cates Auction advertised public auctions for both properties to start at noon today.
But Good Shepherd came to an agreement in the last few days to buy the property.
Janet Stuke, board chair and food bank coordinator for Good Shepherd, said the organization purchased the building for $82,500, which included auction fees. It most recently served as antique shops after several years as Pelzl's Do It Best Hardware and V and S Variety Store.
Good Shepherd, at Fourth and Shawnee will go from its current space of 7,500 square feet to 9,300 square feet. And it all will be on one level.
Stuke said it was a great opportunity for Good Shepherd, which has outgrown its space. She also said she was thankful for the strong community support. The organization has been raising money for a new location and was able to purchase the building with those funds.
Good Shepherd hopes to be open for business at its new home within the next year.
Minimum bid was $50,000 for each property.