McLouth softball rolls by Immaculata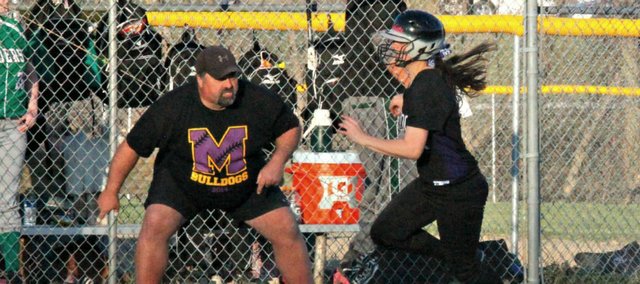 McLouth — If the McLouth High softball team's home opener — a Thursday doubleheader against Leavenworth-Immaculata — was a sign of things to come, the Bulldogs' 2014 season could quickly evolve into a two-month fireworks display.
Despite playing just seven combined innings, the Bulldogs erupted for 31 runs on 32 hits and stole 30 bases in a sweep of the Raiders in Northeast Kansas League play. They needed four innings for a 16-0 win in the first game, then ended the night with a 15-0, three-inning victory.
MHS (4-0, 2-0 NEKL) came out hot in the opener, grabbing a 3-0 lead after one inning. Konner Patterson and Shannon Greene each doubled and scored, and Dominique Tullis scored on a single by Amber McCown for the early three-run advantage. After a scoreless second inning, Greene led off the third with a single and came around to make it 4-0.
The floodgates opened in the fourth, as the Bulldogs plated 12 runs to bring the game to an early end. They racked up 10 hits in the inning, including four straight to close the contest. The 15-run mercy rule went into effect after Patterson and Greene scored on a two-run double by Tullis.
"We work on hitting a lot, so we take a lot of pride in our hitting," coach Ballard Patterson said. "What you're going to see this year is more of us hitting line drives, and we'll win a state championship if we do that."
As a team, MHS recorded 19 hits, including four doubles. Greene, Konner Patterson, Tullis and Shannon Brown each had three hits in the victory. Greene also got the win in the pitcher's circle, allowing just two singles and striking out 10 in four innings.
Just like in the first game, McLouth opened the nightcap with a three-run first, getting runs from Brown, Konner Patterson and Greene. The team's first eight hitters reached base safely and scored in a seven-run second, then the Bulldogs added five more in the third for another mercy-rule win.
Pitchers Shelby Turner and Angela Dailey combined for three shutout innings, allowing just three base runners. Turner threw two no-hit frames with three strikeouts and a walk, then Dailey worked around two singles for a scoreless third, striking out one.
Ballard Patterson, a hitting instructor by trade, said new assistant coach Jordan Payne has been working with Bulldog pitchers this season. Payne pitched collegiately at Southern Arkansas University and MidAmerica Nazarene University.
"She's doing a fantastic job," Ballard Patterson said. "The kids really listen to her and they really take to her. They're enjoying not having to answer to me on every bad pitch."
Brown, Konner Patterson, Greene and Dailey each had multi-hit games. Konner Patterson went a combined 5-of-6 with a double, a triple and six runs in the twin bill. She has now reached base in 14 of 15 plate appearances in 2014.
MHS has scored at least 10 runs in each of its first four games and already has 59 hits this season. It opened the year April 3 with a sweep of Class 4A Perry-Lecompton, winning by scores of 10-7 and 10-1.
"I feel like we can hit and pitch with anybody and we're playing defense as well as we need to with that kind of offense," Ballard Patterson said. "We have depth, which gives you competition, and competition makes you a better team. That's the key right now."
The Bulldogs will continue league action Monday at Pleasant Ridge. They went 2-0 against the Rams last season.
Game 1
IHS 000 0 — 0
MHS 301 (12) — 16
Leading hitters: Shannon Greene 3-3, 2B, 4 R; Konner Patterson 3-4, 2B, 3 R; Dominique Tullis 3-4, 2B, 3 R; Shannon Brown 3-4, 2B, 2 R.
Game 2
IHS 000 — 0
MHS 375 — 15
Leading hitters: Shannon Brown 3-3, 2B, 3 R; Konner Patterson 2-2, 3B, 3 R; Shannon Greene 2-3, 2B, 2 R; Angela Dailey 2-3, 2 R.