Kraft steps down after 12 years with
THS

girls basketball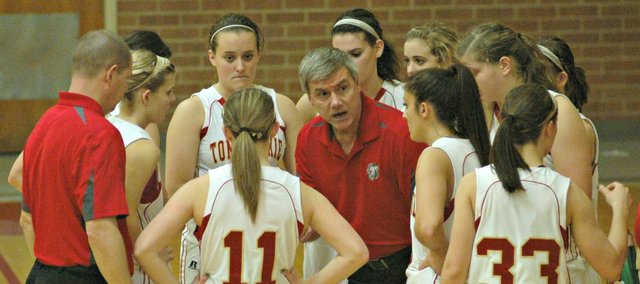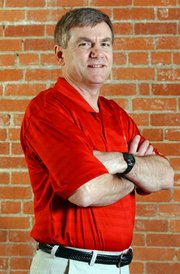 Kraft's resume
Career record: 356-260
Record at THS: 184-89
Kaw Valley League titles
03-04, 04-05, 05-06, 06-07
Tonganoxie Invitational titles
2005, 2007, 2008
State appearances
2005, 2007, 2013
THS under Kraft
2002-03: 10-11
2003-04: 17-5*
2004-05: 22-4+
2005-06: 21-2*
2006-07: 23-3+
2007-08: 19-4
2008-09: 15-7
2009-10: 7-15
2010-11: 9-12
2011-12: 16-7
2012-13: 15-8^
2013-14: 10-11
*KVL champ
+KVL champ/state qualifier
^State qualifier
Perhaps Randy Kraft's coaching tenure at Tonganoxie High can best be summed up in one word: consistency.
In 12 seasons at the helm of the Chieftain girls basketball program, Kraft has amassed a 184-89 record, failing to win 10 or more games just twice. Pepper in four Kaw Valley League titles, three trips to state and the creation of a yearly home tournament, and you've got all the makings of a bona fide dynasty.
That's exactly what THS has become under Kraft, but with the conclusion of the 2013-14 season also came the end of an era. Kraft recently announced his resignation after 35 years in coaching, including 28 as a head girls coach.
"I've had a really, really good run here with some great kids," said Kraft, who coached for 23 years at Colony-Crest High School — the last 16 as the head girls coach — before arriving at Tonganoxie in 2001. "This was a really tough decision for me to make. You're going to leave a group no matter when you do it. It was tough, but I just felt the time was right.
"Right now, I feel good about my decision, so I think it was the right time."
All told, Kraft owns a 356-260 career record between his stints at Crest and Tonganoxie.
Kraft didn't coach in his first year at THS, but in 2002-03, he took over a team that went 7-14 and lost all its varsity starters. The Chieftains went 10-11 in his first season, setting the stage for unprecedented levels of success in the following four seasons. From 2003-04 to 2006-07, THS went a combined 83-14, including a 50-2 mark in KVL play, winning league championships in each of those years.
That stretch also included state appearances in 2005 and 2007, both ending in fourth-place finishes. Both state teams reached the semifinals before losing to the eventual state champions in overtime. The latter finished with a 23-3 record, marking the best season in Kraft's tenure with the Chieftains.
"That was a very unique group," Kraft said. "By the time we went to state that year, we were rotating nine kids playing a lot of minutes. That's pretty rare."
THS went 19-4 the next season, but just missed the state cut, falling in the sub-state championship game. After coming up one win short again in 2012, Kraft led THS to a final state appearance in 2013. That year's team went 15-8, falling to Paola in the opening round.
In addition to his long list of contributions to the school's trophy case, Kraft helped pioneer what has become a staple of the THS program. The Tonganoxie Invitational — the second-longest running basketball tournament in the state — expanded to include a girls tournament in Kraft's second season. The Chieftains have reached the championship game in six of the tournament's 11 years, winning titles in 2005, 2007 and 2008.
There wasn't much fanfare involved with Kraft's final season at THS — a 10-11 campaign that ended with a sub-state semifinal loss to Piper — but a quick glance at the final record hardly tells the story of the 2013-14 season. The Chieftains sat at just 5-10 with five games left in the regular season, but under what THS athletics director Brandon Parker called arguably the best coaching job of Kraft's tenure, they pieced together a five-game win streak to get to .500 before postseason play began. That stretch included revenge victories against a trio of league opponents in Lansing, Mill Valley and Bonner Springs.
"I think, no matter what the talent level has been, Randy has been consistent in teaching kids the game of basketball," Parker said. "He's always been big into fundamentals, and it's shown. You can't average that many wins over that span if it's not built on fundamentals."
Parker said the coaching vacancy has already been posted within the district and will be posted publicly in the near future. Despite hanging up his whistle, Kraft will retain his position as a high school agriculture instructor — the same job he took upon his arrival in Tonganoxie 13 years ago.
With a larger family that now includes grandchildren, Kraft admitted he's already looking ahead to the winter months, which, for the first time in more than three decades, won't be reserved for time in the gym.
"Probably the one thing that excites me a little bit is, in all these years, I've never had Christmas or Thanksgiving," he said. "Dealing with family issues, this year is going to be a little different for me."