Woods perfect as
THS

sweeps Bonner Springs
Chieftains have won five straight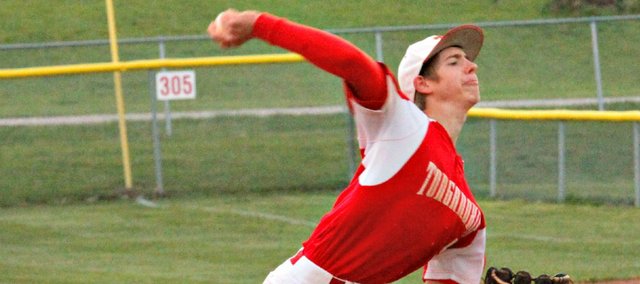 Tonganoxie High senior Travis Woods has had some memorable pitching performances in his Chieftain baseball career, but this one likely takes the cake.
Woods pitched a perfect game in a 6-0 win Tuesday against Bonner Springs at the Leavenworth County Fairgrounds.
The Chieftain senior retired all 21 hitters he faced, racking up seven strikeouts along the way. He struck out the side in the seventh, capping off the perfect outing with a called third strike against Thaddeus Glenn.
"I just knew I had to throw strikes," Woods said. "I told coach (Mitch Loomis) right before the inning to let me finish this, and he put his faith in me and I got it done."
THS (gave Woods all the run support he needed when Brady Swedo scored on a sacrifice fly by Shane Levy in the first inning. Connor Wentz-Hall, Swedo and Tyler Novotney each drove in a run in a three-run second, then Woods and Levy scored in the fifth to provide the final scoring margin.
The game was the second in a doubleheader against the Braves. The Chieftains won the first game, 8-3.
Swedo, Novotney and Woods each scored in a three-run first inning, but the Braves scored one in the third and two in the fourth to force a tie. THS went back in front when Wentz-Hall and Ty Hampton scored in the bottom of the fourth, then Levy drove in Swedo on a sac fly in the fifth. Justin Wagner and Colten Weaver both crossed the plate in the sixth, and Bonner Springs failed to answer in the seventh.
Novotney allowed three runs over four innings on the mound, and Wager threw three innings of scoreless relief.
Loomis' squad has now won five straight — its longest win streak since the 2009 team reeled off nine in a row — with all five victories coming against KVL opponents.
"A lot of these kids have been playing for three or four years," Loomis said. "They're really starting to buy in to what we do well, and we're trying to take as much advantage of that as we can. It's coming together. We've all been kind of expecting it for a couple years now."
The Chieftains will be back in action April 24 at Turner.
Game 1
BSHS 001 200 0 — 3
THS 300 212 X — 8
Game 2
BSHS 000 000 0 — 0
THS 130 020 X — 6