Five signs spring has arrived in Baldwin City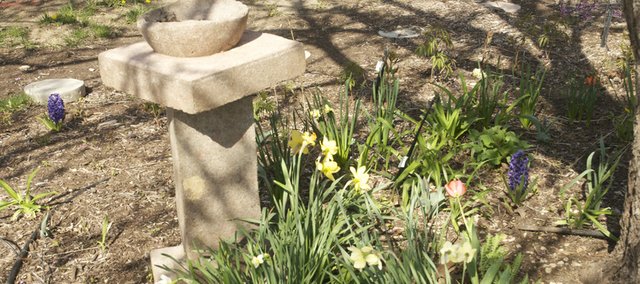 Nature provides many signs of spring's arrival. In Kansas, we look for blooming redbuds, the arrival of song birds and, of course, dandelions. The following are five things more particular to Baldwin City that signal spring's arrival.
1. Activity in the Business and Professional Women's community garden
Hoses are out and plots have been tiled in the community garden the Business and Professional Women sponsor in the 1100 block of Third Street north of the cemetery. There's still time to get a plot for the year and plant veggies for the late spring, summer and fall.
2. Frogs in the Baker University campus pond
Having emerged from the winter hibernation, the frogs can be heard singing their love songs during warm spring evenings along the banks of the Baker pond and the mid-campus stream that feeds it. The university turning on the recirculation system that pipes pond water up the gentle draw to the start of the stream is another sign of spring.
3. Flowers blooming in Tom Swan Park
Daffodils and tulips herald the arrival of spring with their appearance in Tom Swan Park. As the season goes forward, other blooms will take their place for a time in the stage the community's master gardeners tend in the 700 block of Eighth Street.
4. The downtown fountain
Turned off after the Maple Leaf Festival in October and draped most of that time under a green wrap, the fountain at the corner of Eighth and High streets once again provides a picturesque and peaceful setting for a few minutes to relaxation.
5. Maple leaf buds
Holland has its tulips, Washington, D.C., has its cherry trees, and Baldwin City has its maple trees. Although redbuds are in bloom and some small leaves have already appeared on some other species of local trees, the community's signature tree waits for warmer nights before first popping its foliage. But plump buds signal their arrival.