Chieftain girls blank Leavenworth for second straight win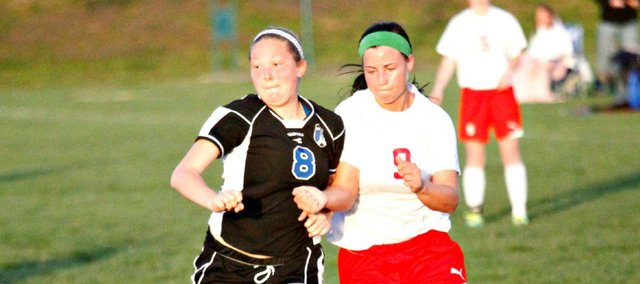 After Monday's 4-0 loss to Piper, the Tonganoxie High girls soccer team had just one victory in seven games. As of Friday night, though, the Chieftains are on their first winning streak of the season.
THS won its second straight game Friday with a 1-0 victory against Class 5A Leavenworth at Chieftain Park. An early goal by Emily Soetaert provided the game's only scoring, and coach Justin Seever's squad relied on its defense to preserve the win — its second shutout in four days.
"We definitely had a rough patch coming in, but lately in practice, we've been beating the ideas of what we're looking for, and you can see it out here now," said Seever, whose Chieftains also defeated Bishop Ward on Tuesday, 10-0. "We're getting opportunities we didn't have before."
The Chieftains (3-5-1) got a chance to score about nine minutes in when Joanna Filbert fired a pass to Mackenzie Price in front of the Pioneer goal, but goalkeeper Rebecca Reilly scooped up the ball before Price could get off a shot attempt.
Soetaert capitalized on a chance about eight minutes later, firing a shot by Reilly with 23:17 left in the half.
Price nearly doubled the advantage midway through the half, but her shot sailed just over the crossbar. Neither team had another legitimate scoring threat until a Leavenworth breakaway with less than six minutes remaining. Chieftain goalkeeper Lauren Jackson extinguished the threat, coming out of the box to deflect the ball before the Pioneers could shoot.
Price came up high on another try with 4:03 to go, and neither team got another open look before halftime.
THS was unable to cash in on several chances early in the second half. Madison Simmons came up empty on two free kicks, then Reilly deflected a Soetaert pass to Price in front of the net with 23:35 to go. Leavenworth got an opportunity to tie the game on a corner kick by Brenna Stoffle, but Jackson intercepted the kick with 17:22 remaining.
The teams traded possession the rest of the way, and the Pioneers made one last-ditch effort to force overtime in the game's final seconds. Amara Drew broke free down the right side of the field and took a shot, but Jackson came up big again, knocking the ball to a teammate, who kicked it out of bounds.
"She's really starting to come around," Seever said of Jackson, who hadn't played goalkeeper before starting as a freshman last season. "It took her until about halfway through the season to get confident in herself. That save at the end was nuts."
Leavenworth tried to set up a last-second corner kick, but time expired before it got a shot off.
The Pioneers are coached by former Tonganoxie boys and girls coach Ken Lott. Seever and current girls assistant Brian Kroll — also the Chieftain boys coach — both coached under Lott before he left THS after the 2009-10 school year.
"I don't know if (the players) will take it as that big of a rivalry, but I'm glad we finally got them on our schedule," Seever said. "We're similar in talent level and it gives us a chance to play a bigger school."
THS will try to push its win streak to three games Monday when it travels to Frontier League opponent Baldwin. The Bulldogs beat the Chieftains in two meetings last season, 3-2 and 1-0.