THS

boys win home track invitational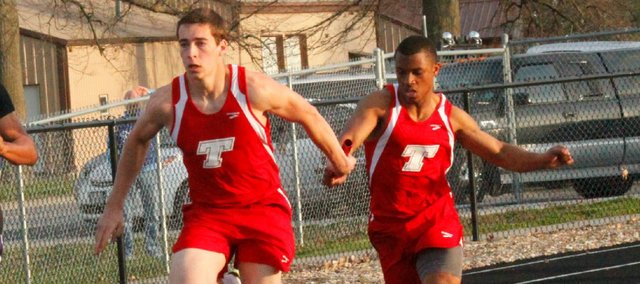 Related document
The Tonganoxie High boys track and field team has shown flashes of brilliance in the early stages of the 2014 season. The Chieftains were firing on all cylinders Wednesday on their home field, and the results spoke for themselves.
THS won a team title at the Tonganoxie Invitational, combining for six event championships at Beatty Field. The team finished with 170.2 points, beating second-plcae Piper by 14.
Seniors Ben Johnson and Cody Snyder led the way, winning two events each. Johnson won the triple jump with a jump of 42 feet, 3 inches, then claimed gold in the 110-meter hurdles with a time of 16.2 seconds. He capped off his individual performance with a second-place finish in the high jump (6 feet). Meanwhile, Snyder swept the top spots in the shot put (44-4) and discus (136-11).
Junior Devan Smith beat out Johnson in the high jump, winning the event with a jump of 6-2. Johnson later teamed up with fellow seniors Cole Holloway, Maleak Gibson and Noe Puebla-Garcia to win the team's final gold medal in the 4x100-meter relay, crossing the finish line in 46.76 seconds — less than a quarter-second ahead of runner-up Basehor-Linwood.
Senior Evan Stilgenbauer and sophomore Dalton Trimble also enjoyed solid all-around performances at the home meet. Stilgenbauer took second in the 1,600-meter run (5:03.79) and third in the 800 F(2:13.69), while Trimble took second in the long jump (20-6) and third in the 300-meter hurdles (45.37) and triple jump (41-2).
The THS girls won two individual titles and came in fifth out of eight teams with 73 points. St. James Academy dominated the girls field, winning the team title with 203.5 points — 66 better than runner-up Basehor-Linwood.
Senior Haley Griffin won the high jump for the second straight meet, clearing a height of 5 feet even. She was the only athlete to jump higher than 4-8. Freshman Emily Chambers brought home the girls' only other gold medal in the 1,600-meter run, beating the field by nearly 13 seconds with a time of 5:57.97.
Senior Demi Trimble and junior Tressa Walker each earned second-place finishes in field competition — Trimble in the shot put (33-3) and Walker in the triple jump (32-3.5). Trimble added a fifth-place finish in the discus (84-3) and Walker took sixth in the 400-meter run (1:08.35).
The Chieftains will be back in competition May 2 at the Cardinal Relays in Eudora.