Chieftain golfers 6th at Hayden Invitational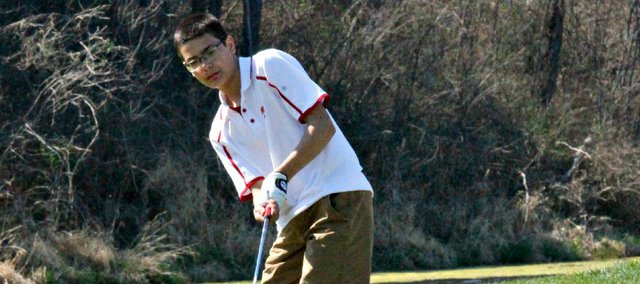 After nearly two weeks off, the Tonganoxie High golf team returned to the course Monday at the Hayden Invitational. The Chieftains finished sixth out of 11 teams with a score of 364 at Village Greens Golf Course in Ozawkie.
Senior Drew Sandburg led THS individually, coming in seventh with a score of 77. He was one of four golfer to finish with that score, but finished fourth in a scorecard playoff.
Nathaniel Laundy came in second behind Sandburg with a 94, followed by Matt Scharff (96) and Isaac Jones (97). Ben Lanza (108) and Heath Martin (112) rounded out team scoring.
THS, which hadn't competed since the Mill Valley Jaguar Invitational on April 9, added 12 strokes to its last tournament score. Host school Topeka-Hayden won the team championship with a score of 314, while Lansing's Luke Russell took home the individual title with a 73.
The Chieftains will be back in action Thursday at Spring Hill. They took second at last year's event with a score of 332.