Face to Face: Tonganoxie United Methodist Church's Jeff Clinger
Pastor also serves on Chamber of Commerce board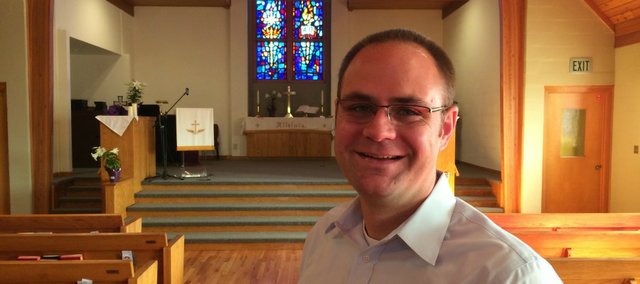 Name: Jeff Clinger
Born: Overland Park
Family: Wife, Heather (married in 2002); daughter, Hannah, 5; and son, Joshua, 2.
Occupation: Pastor, Tonganoxie United Methodist Church.
Dream job as a child: Real estate lady. Clinger said he was in preschool when his family was house shopping. He was amazed at the power his family's real estate woman wielded: She could get into any house at any time. She also was extremely nice, Clinger said.
Digging Deeper: Clinger graduated from Tonganoxie High School and then attended Nebraska Wesleyan in Lincoln, Neb., and seminary at Garrett-Evangelical, the United Methodist seminary at Northwestern University in Evanston, Ill.
After seminary, he was in northwest Indiana and was ordained in Indiana in 2005 before moving back to Kansas.
Clinger loves live music, college basketball and running.
"I have recently dropped various modifiers such as 'wanna be' or 'sometimes' or 'kind of' and have finally started claiming the title of runner," Clinger said.
He got into running in an effort to lose weight and take better care of himself.
It worked. He once weighed about 280 pounds, but has trimmed down, noting running is a way to take care of himself mentally, emotionally and physically.
As for music, he catches three or four concerts a year. His last show: The Avett Brothers in Springfield, Mo. The band is "probably currently my favorite live act."
He also loves the Dave Matthews Band and has seen them about 10 times in the past 15 years.
His profession, meanwhile, has brought him back full circle to Tonganoxie, something he cherishes.
"One of my best days in ministry came last summer when I was called 'coach' at the church and 'Pastor Jeff' at the ball field on the same day," Clinger said. "I love life and ministry and raising my family in Tonganoxie."