Girls soccer can't find net vs. Panthers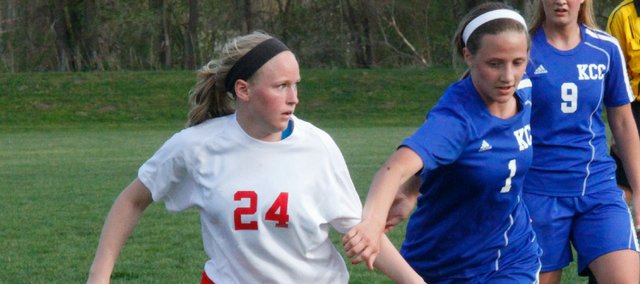 Open shots sailed over the crossbar. Passes were intercepted by the goalkeeper. Corner kick after corner kick was disrupted by defenders.
For the Tonganoxie High girls soccer team, it was just that type of night.
The Chieftains dominated possession and had multiple scoring opportunities, but never found the back of the net in a 1-0 loss to Kansas City Christian on Wednesday at Chieftain Park.
"We had great looks, but soccer is a crazy lady," said coach Justin Seever, whose Chieftains saw a three-game win streak come to an end. "Some days, we can play terrible and put two of those away. Today, we were playing really well, but we couldn't quite put the right body language on it."
THS (4-6-1) got a chance to take an early lead when Taylar Morgan got a look in front of the KC Christian net, but Panther goalkeeper Paige Hardt got to the ball just before it crossed the goal line. Emily Soetaert gave the Chieftains another chance midway through the half, but Hardt came up with another stop to keep the game scoreless.
Following a near-miss on a breakaway by KCC's Lizzie Wrablica, Morgan nearly scored off a corner kick by Soetaert, but the shot sailed high with 3:42 in the first half.
After a collision near the THS goal less than two minutes later, the Panthers got a chance to take the lead on a penalty kick by Mary Eileen Kucera, but Chieftain keeper Lauren Jackson blocked the shot to keep the game tied at halftime.
THS spent most of the second half on the Panthers' half of the field and created numerous scoring chances. Madison Simmons got a look off a pass from Soetaert with 26 minutes left, but Hardt was there to deflect the ball, and Kaitlin Hall's follow-up attempt went wide right. Mackenzie Price seemingly beat the defense for a one-on-one opportunity about six minutes later, but was called offsides.
Several other chances went for naught before the Panthers capitalized at the other end. After a free kick by Kucera, Jenny Jenkins emerged from a crowd near the THS goal and got a shot by Jackson for the game's only score with 8:49 left.
"You never know what's going to happen with those," Seever said. "She got a toe on it and put it away. It's just unlucky."
Seever's squad nearly got the goal back on an open shot by Simmons less than 10 seconds later, but the ball cleared the crossbar. Price got a look with 7:20 to go, but couldn't get the ball by Hardt.
THS continued to battle, keeping the ball near the Panther net in the game's final minutes. Two desperation corner kicks by Soetaert resulted in deflections mere feet from the goal line before time expired.
The Chieftains won't be back in action until they travel May 1 to Olathe for a meeting with Heritage Christian Academy. They defeated HCA last season, 12-2. In the meantime, Seever said his team will get some time off after playing three games in the last five days.
"I'll give them four days off," he said. "Monday will be all about scoring goals. We'll get a little more team-oriented on Tuesday, then Wednesday is all scoring goals again."