Basehor — Karla Holton and Jessica Fouts became close friends when Holton found out she was having twin boys a little more than a year ago. Fouts had recently had twin girls and wanted to help Holton, of Basehor, prepare for what was coming.
Neither of them knew the ultimate bond that would bring them together.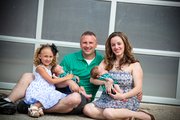 Blake and Lance Tranckino were born 10 months ago to Holton and Vic Tranckino, about a month ahead of their due date. Almost immediately, Fouts, of Tonganoxie, realized the shape of the boys' heads was similar to one of her twin daughters' when she was born.
Fouts' daughter Lilly, now 4, was born with craniosynostosis, a birth defect in which joints between bones in a baby's skull close prematurely, which prevents the child's brain from growing properly. The fused bones must be separated in surgery.
"When my daughter was diagnosed, I had never heard of it," Fouts said. "Then I saw Karla's boys and talked to her about it. I tried to be a good support for her."
Several weeks later, Blake and Lance were officially diagnosed with craniosynostosis.
"It was so nice having her there for us," Holton said. "She was able to help us prepare and to help us know what to expect, as much as you can for something like this."
On April 2, the boys underwent reconstructive surgery in Dallas with the same surgeon who performed Lilly's operation after Fouts recommended him to Holton and the Tranckino family. Although the surgery was completed successfully and the family says the boys are "back to being themselves," there is still a lot of work to do.
"We're feeling good now that the surgery is over, that's for sure," Tranckino said.
The boys did have black eyes and were "pretty fussy" for about a week after the surgery, Tranckino said.
"There was some swelling at first, but you could tell the difference in the shape of their heads immediately," Tranckino said.
Last July, knowing they needed medical insurance to help cover the cost of surgery for Blake and Lance, Holton and Tranckino joined KanCare. Holton worked as a nurse at an orthopedics office, but opted to become a stay-at-home mother to care for her children, which left the family without insurance coverage through her job.
Locally, Children's Mercy Hospital and Kansas University Hospital would have provided a form of the surgery that would've been less invasive. But Holton and Tranckino followed Fouts' rocomendation of Dr. Jeffery Fearon at The Craniofacial Center located in Dallas, Texas. Dr. Fearon is one of the few craniofacial surgeons nationwide whose entire practice is dedicated to craniofacial surgery, and who performs the delicate reconstructive procedure with an experienced neurosurgeon.
KanCare would only cover procedures at Children's Mercy or KU Hospital. Surgery in Dallas, out of pocket, would be $50,000 per child, all due before the procedures. Tranckino said that the family and Dr. Fearon later worked out a deal to lower the expense to $40,000 per child. The family had to borrow money to pay for the surgery up front.
The family began fundraising locally to help them raise enough money to afford the procedures. In March, a fundraiser in Tonganoxie brought in about $10,000 for the family. The family has also been taking donations through their website at YouCaring.com.
The family is continuing to fundraise in hopes of getting closer to their $80,000 goal. On July 18, The Helping Hand Charity is holding the annual Helpful Holes Fore Health Golf Tournament at the Dubs Dread Golf Club in Kansas City, Kan., and is donating all of the proceeds to Blake and Lance Tranckino.
"We're closer than we ever thought we would be to our goal," Holton said. "The community support has just been wonderful. We're speechless."
Fouts has remained a close friend to Holton and Tranckino as they enter the rehabilitation and monitoring phase of recovery. The boys will have check-ups in about six weeks, and those will continue when they turn 1, 5, 10 and 15.
Fouts' daughter Lilly is a blossoming young girl and Fouts said she has had no complications since her surgery three years ago. Lilly's story has served as a source of hope for Holton and Tranckino.
"We couldn't be happier," Fouts said. "Everything has been perfect."
Blake and Lance were recently all smiles as they watched their sister Kylie, 6, hunt for Easter eggs in the Basehor City Park during the community Easter egg hunt. The twins' first birthday is April 30.