New Tonganoxie cafe opens, has been 'insane packed'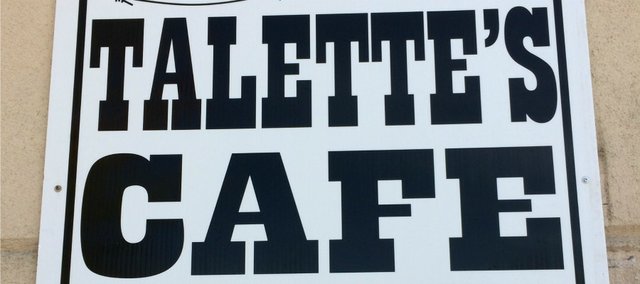 Talette Ford and Paul Dillman each started in the restaurant business at young ages.
"I started waitressing when I was 12 years old and I'm really old now," Ford said with a laugh.
Dillman started in the business at age 13.
They ran Bartlett's restaurant in McLouth together for a summer.
Most recently, Ford was managing a Casey's in Leavenworth and Dillman was working in the dining facility at the University of Saint Mary in Leavenworth.
In the last few months, Ford approached Dillman about an opportunity to open a restaurant in Tonganoxie.
Dillman jumped at the chance — they opened Talette's Café on April 19 at 416 Fourth St. in downtown Tonganoxie.
They actually opened earlier, but had some equipment issues. They've been open 7 a.m.-2 p.m. because of some of those technical difficulties, but now plan to be open the regular hours of 7 a.m.-9 p.m.
Business has gotten off to a strong start.
"Excellent," Ford said. "We've been packed every day."
Dillman, who is the restaurant's cook, chimed in.
"Lunch has been insane packed," he said.
Crowds have exceeded initial expectations, Ford said.
The venue also has gotten a slight makeover.
Dillman sanded the wooden floor and refinished it, while Tony Hoffhines redid the café's tables. Ford also found some additional chairs that have added to the décor. Shelly Hunter, who once was a waitress with Ford, made the rope sign bearing the restaurant's name just inside the front door.
Ford and Dillman stress that most all of the menu items are made from scratch. The fried shrimp is about the only item not made from scratch, Ford said.
"If I thought I could find a place to go catch shrimp and bread it, I would," Ford said.
The cafe's salad dressings even are homemade, as are the desserts, such as the carrot cake and peanut butter pie.
Ford also bragged about Dillman's bread pudding with caramel sauce.
"I don't even like bread pudding and it's awesome," Ford said.
As for main dishes, hot beef sandwiches "have been selling like crazy." The pork tenderloins also are popular, Ford said.
As the café gets established, Ford has about 15-20 friends and family splitting time working at the establishment.
But she's also in search of another cook, as Dillman currently covers all of those duties.
Ford and Dillman plan to eventually open up the patio for outdoor seating and are contemplating having weekend musical entertainment.
Visitors might also notice some interesting names for breakfast items. They all tie into a rode theme, as Ford always has liked rodeos.
One item, the bull rider, has biscuits with sausage and hash browns topped with two eggs and gravy.
"You can go to Applebee's or Chili's or Outback," Ford said. "This is original stuff."
"Just like mom made it at home," Dillman said.
"That's what we're going for," Ford said.