Tonganoxie turns out for fundraiser, talent show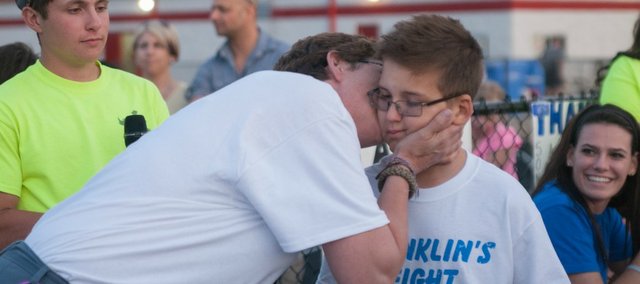 Makayla Sample got to know Franklin Eason when he played youth baseball on the team her parents coached.
"I just kind of helped out in the dugout," Sample said. "We knew him from then."
This past year, Sample and Franklin's mother, Linda Eason, attended middle school football games. Linda always had a cookie for Sample's son, Brody, who is 15 months.
The families had grown close, and, as is commonplace when friends or loved ones need a helping hand, people pitch in.
Friday's Light Up the Night for Franklin's Fight was Sample trying to coordinate several helping hands.
Franklin, now a fifth-grader at Tonganoxie Middle School, has been battling brain cancer since last year.
Sample, a 2012 Tonganoxie High School graduate, wanted to do something to help cover medical and other expenses for the family.
"I just know how hard it is being a single mom and what it would be like if my kid was sick," Sample said Monday.
Friday's event took place at Beatty Field. Activities included a balloon artist, obstacle course, bounce house and pie-throwing event.
Youths had the chance to throw plates of whipped cream at volunteers' faces.
"Frankiln loved the pie in the face," Sample said with a laugh.
There also were silent auctions for themed baskets and a cake raffle.
Hunter Sturgis conducted a live auction for larger baskets, Royals and T-Bones tickets and an outdoor cooler that Herb and Tammie George constructed and donated.
The cooler was the biggest ticket item, as Tonganoxie resident Scott Lee had the winning bid of $500.
Sample said she posted the event on Facebook and outpouring just grew from there.
"I couldn't thank the community enough for coming together," Sample said.
She said both Tonganoxie and McLouth businesses pitched in for the cause.
McLouth Apple Market grocery store donate water for the run, while First State Bank and Trust donated a grill for the food. Peruvian Connection, where Linda works, sold glow sticks for the run.
The turnout exceeded Sample's expectations. She said it also meant a great deal to Linda.
"She's just so thankful for everyone coming out," Sample said.
Tongie's Got Talent
Not far from Franklin's Fight there were Tonganoxie youths belting out songs in VFW Park in front of about 125 people.
Transforming Tonganoxie Together sponsored this year's Tongie's Got Talent on Friday night.
Marian Pray placed first, Maureen Wetta second and the band The Talent Show placed third. Band members are Randy Ferguson, Hayden Sigourney, Michael Stevens and Justin Henderson.
Other contestants were Kaitlyn Gooden, Carmen Snyder, Rylie Putthooff, Eleanor Hicks and Amber Adcox in the middle school division.
Other high school students who competed were Josh Lingo, Meagan Behm, Zach Hanson, Rebekah Stewart and Christine Pudenz.
Lajean Keene, Bill Peak, Donna Hoegler and Scott Green were judges. Green also performed two songs.
Mayor Jason Ward, police officer Jennifer Beard and Hoegler spoke about the pitfalls of underage drinking.
Roz McCommon coordinated the event, with the Tonganoxie VFW Women's Auxiliary providing food.