THS

baseball still in hunt for league title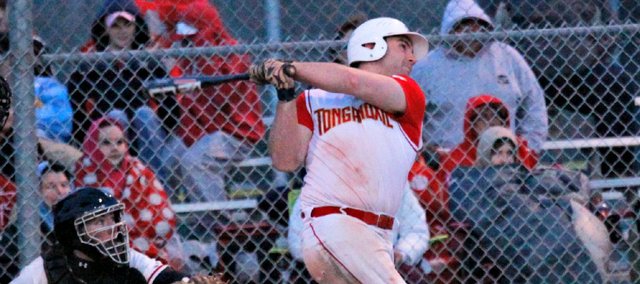 Related document
Entering the 2014 season, one of the Tonganoxie High baseball team's goals was very clear: challenge perennial power Mill Valley for a Kaw Valley League title. Following a 2-1 showing against KVL opponents last week, the Chieftains have an opportunity to do just that.
THS split a doubleheader Friday at Turner, then cruised to a five-inning victory Saturday at Basehor-Linwood to keep itself in the running for at least a share of this year's league crown.
Inclement weather moved last week's twin bill at Turner from Thursday to Friday, but didn't deter the Chieftains (8-4, 8-2 KVL) from coming out hot after a 10-day break. They jumped out to a 4-0 lead after two innings, but the Bears battled back, capitalizing on four sixth-inning errors to take a 5-4 lead they wouldn't relinquish.
"We didn't try very hard, and I think it a lot of it had to do with the lead," coach Mitch Loomis said. "We could have had some guys give a little bit better effort in trying to stop the ball. I think we came out enthused early, but we let one mistake turn into four in the sixth inning."
Justin Wagner went the distance on the mound, giving up one earned run on four hits while striking out four and walking five. Brady Swedo led the way at the plate, going 1-for-2 with a two-run triple, while Wagner and Logan Woods each drove in a run.
Loomis' squad bounced back from its second league loss of the season — its first since its season opener against Bishop Ward on March 27 — with a 10-3 victory in the nightcap. The Chieftains opened up a 4-2 lead after four innings, then scored three each in the sixth and seventh to erase any thoughts of a Turner sweep.
Travis Woods pitched yet another gem, allowing just one earned in a complete-game effort. He gave up six hits while striking out five and walking three. The Chieftain senior is now 4-0 against league opponents this year. Meanwhile, Thomas Minor had a big game offensively, going 2-for-4 with a career-high four runs batted in. Tyler Novotney and Colten Weaver also had multi-hit games.
"We're putting a lot of emphasis right now on chasing Mill Valley for a league championship," Loomis said. "If we get anywhere over two losses in league, we're pretty much out of the hunt against them. Our kids really bought into that, so that helped them kind of clear out what happened in the first game."
The team's momentum from game two carried over into Saturday's meeting with Basehor-Linwood, as the Chieftains needed just five innings for an 18-5 victory. They pounded out 17 hits in the win, which capped off a two-game sweep against the Bobcats in league play.
Six THS players had two or more hits, including 3-for-4 efforts by Swedo and Weaver. Shane Levy also had a strong showing, going 2-for-4 with a three-run home run — his second homer of the season.
The 18 runs marked Tonganoxie's largest offensive output since an 18-11 victory against Turner on April 11, 2010. Several Chieftains struggled at the plate early in the season, but the team's batting average has since grown to .291.
"We've really started swinging the bats well," Loomis said. "Guys who struggled through the first eight or nine games have really started to come alive, which has given confidence to the guys who were already swinging it well."
Novotney pitched four innings for the win, improving to 3-1 on the season. He gave up four runs on five hits, striking out five and walking two. Minor gave up one run in one inning of relief.
Weather permitting, THS will host Piper at 4 p.m. today for a pair of games at the Leavenworth County Fairgrounds. A sweep would keep the Chieftains within reach of Mill Valley, which is currently 8-0 in league play.
After today's games, THS will return to action at 2:30 p.m. Thursday when it opens the annual Butch Foster Memorial Classic at the Kansas City T-Bones' CommunityAmerica Ballpark. The Chieftains, who have never won their tournament opener, will face Frontier League opponent Spring Hill. The winner will play the winner of Paola and Bonner Springs at 7:30 p.m. Friday, while the losers will face off at 5 p.m. Friday.
Other teams in this year's field are Perry-Lecompton, Holton, Baldwin and Basehor-Linwood. PLHS, a former Kaw Valley League member, will compete as a KVL team for tournament purposes.