THS

wresting coach Goebel resigns after 12 seasons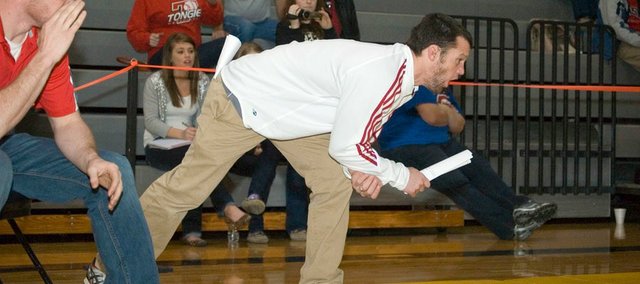 Goebel's resume
Team KVL champs
2012, 2013
Team regional champs
2013
Ind. KVL champs
20 (Three multi-time)
Ind. regional champs
14 (Four multi-time)
State qualifiers
49 (15 multi-time)
State placers
14 (Two runners-up)
100-match winners
Clayton Himpel (149), Ross Starcher (141)*, Matt Brock (129), Jeremie Maus (109)
*Starcher won 32 matches in his freshman season before Goebel's arrival.
Throughout his tenure at Tonganoxie High, Jeremy Goebel has preached the importance of a team-first mentality in the Chieftain wrestling room. As a result, THS has transformed into one of the state's top programs, bringing home numerous team awards in a sport widely considered to be individual-based.
After 12 years at the helm, though, the orchestrator of nearly all the program's success has decided to pass the torch.
Goebel recently announced his resignation as THS wrestling coach. The native of North Platte, Neb., has accepted the same position at Syracuse (Neb.) High School, giving himself the opportunity to be closer to his family.
"I've been lucky enough to be part of a community that is tremendously supportive of everything that goes on," said Goebel, whose wife, Lisa, is also from Nebraska. "Great people have surrounded me and helped me develop as a teacher and a coach. It's been a great 12 years. I can't say enough good things about what's happened for me and my family here."
After one year as an assistant coach at Wellington, Goebel — a three-year letterman at the University of Nebraska-Kearney — took over for former Tonganoxie coach Bill DeWitt in 2002. He helped two wrestlers win Kaw Valley League titles, one more win a regional title and six qualify for state in his first season, including James Hartshorn, who finished sixth at 215 pounds.
What happened in the following 11 years is unmatched by any other coach in Chieftain wrestling history. Goebel's resume includes 20 individual league champs, 14 individual regional champs, 49 state qualifiers and 14 state placers.
Additionally, Goebel has coached the program's only four 100-match winners, including the most decorated wrestler in Chieftain history in current senior Clayton Himpel. Himpel is the team's all-time wins leader with 149, followed by 2005 grad Ross Starcher (141), 2009 grad Matt Brock (129) and 2010 grad Jeremie Maus (109).
Team success began to show up in recent years, starting with a KVL championship in 2012. Goebel coached 12 Chieftains to the finals of the league tournament that season, helping the program win its first team title since 1991.
THS repeated as league champ a year later, but it didn't stop there. Powered by four individual champs and a program record-tying eight state qualifiers, the Chieftains won their first-ever Class 4A regional title in front of a home crowd.
"Going back to that moment, it was full force in terms of kids understanding their roles," said Goebel, who was named regional coach of the year following the tournament. "Just that mindset of being able to not just finish, but finish at home, that was huge. They were going to do whatever it took. They were out there for one another, and as a coach, you couldn't ask for much more than that."
The 2012-13 team capped off the year with two more program records, finishing with three individual state placers and a 10th-place team finish. Goebel was named the Lawrence Journal-World's All-Area Coach of the Year that season.
This year's squad tied both program marks at state, but took yet another step in the process. Asher Huseman became the school's second-ever wrestler to reach the state championship match in his weight class, joining Ross Starcher's 2005 performance. Meanwhile, Zeke Kissinger had the second odd-place state finish in program history, matching Maus' fifth-place effort in 2010.
Many of the Chieftains' recent accomplishments can be found throughout the school's trophy cases or etched on the wrestling room walls, but perhaps some of Goebel's biggest achievements didn't come with award ceremonies. Former wrestlers from throughout his tenure have made frequent returns for tournaments or practices, which, according to athletics director THS Brandon Parker, is the real indicator of Goebel's success.
"I think coach Goebel's contributions to wrestling go far deeper than trophies and awards," said Parker, who arrived in Tonganoxie the same year as Goebel. "He's built a positive culture here in Tonganoxie. The relationships he's built and how the wrestlers feel about him make those accomplishments much bigger than any trophy he's helped the team win."
Goebel will finish out the school year as a physical education instructor at Tonganoxie Elementary School. In addition to his coaching duties in Syracuse, he'll also have the same teaching position.