Dole makes Tonganoxie stop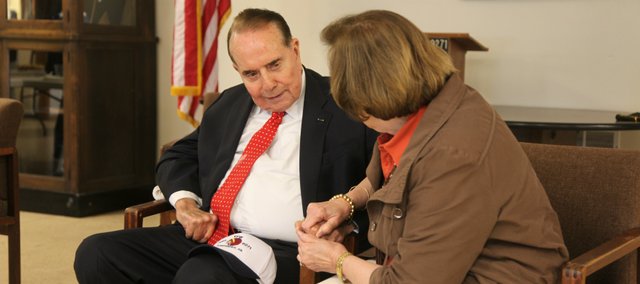 One of about 40 attendees at last week's Tonganoxie luncheon for former Sen. Bob Dole asked the longtime Republican how gridlock in Washington, D.C. could be tackled.
Dole, known for his ability to reach across the aisle and make compromises with Democratic counterparts, had a simple response.
"They need to knock a few heads together," Dole said, drawing laughs on one of several occasions April 22 at VFW Hall.
The longtime U.S. senator and 1996 presidential nominee stopped in Tonganoxie for what is expected to be one of many visits across the state.
Before having lunch at the VFW Hall, Dole stopped at his alma mater, visiting one of two Kansas University buildings that bears his name: the Robert J. Dole Institute of Politics.
Originally from Russell near Hays, Dole served nearly 30 years in the U.S. House and Senate representing Kansas.
Representatives from Tonganoxie's VFW Post and American Legion chapters attended, as did Joshua Zenger with the Leavenworth County Young Republicans. Zenger introduced those in attendance, including state Reps. Connie O'Brien, Willie Dove and John Bradford, all Republicans who represent portions of Leavenworth County. Mike Powell, Republican Party chair for Leavenworth County, also was in attendance.
Dole asked how many veterans were in the local veteran organizations. A VFW member said they had 171 members; an American Legion member followed with a count of 84.
"The Legion better get busy," Dole said.
Dole continued to discuss the importance of bipartisanship, noting that he worked with the late Sen. Ted Kennedy, a staunch Massachusetts Democrat, to pass the Americans with Disabilities Act of 1990.
Many of those in attendance lined up for photos with Dole, many thanking him for his years of service. Others shared personal stories of his influence on them or family members.
Of course, when it was announced the crowd that they could snap photos with Dole, he remained his comical self.
"They're only a hundred dollars a piece," he said.
Dole left VFW Hall for another engagement in Leavenworth, but he continued to thank people at the luncheon for their hospitality and to his constituents — regardless of whether they voted for him or an opponent.
He also was sure to thank VFW Ladies Auxiliary for providing dessert.
"I don't know who made those brownies, but they're really good," Dole said.