Stilgenbauer to play soccer at Earlham College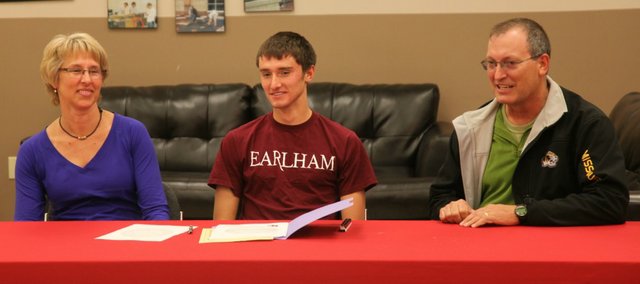 As far as success goes, Evan Stilgenbauer has seen it all on the Tonganoxie High soccer field.
A four-year starter and two-year captain, the Chieftain senior has played a role in 37 wins, four regional championship appearances, two regional titles, a Kaw Valley League title and the school's only state championship appearance in a head-to-head sport. Now, with his high school career officially in the books, the winningest player in program history is ready to step up to the collegiate ranks.
Wednesday in the THS Chieftain Room, Stilgenbauer signed a national letter of intent to play for Earlham College, an NCAA Division III school in Richmond, Ind.
"It feels good to actually know where I'm going," said Stilgenbauer, who hasn't decided on a major, but plans to study physical therapy. "I have my career plan set and my future is written down, so I'm good."
Even as a freshman, Stilgenbauer developed a knack for scoring key goals. He scored the decisive goal in a 2-1 victory against Perry-Lecompton in the Chieftains' postseason opener, doubling the team's win total after a 1-15 regular season. A year later, he scored a game-tying goal late in a regional final against Maranatha Academy, which THS went onto to win in penalty kicks for its first regional title since 1997.
He took yet another step as a junior, helping the THS defense limit heavily-favored McPherson to a single goal in a state semifinal victory — a performance coach Brian Kroll called perhaps the best of Stilgenbauer's career. Following that season, Stilgenbauer earned an All-State honorable mention, an All-Region first-team selection and an All-KVL honorable mention.
One of few key contributors back from the state runner-up team, Stilgenbauer quickly showed his versatility in 2013. He played every position other than goalkeeper as a senior, helping the Chieftains rebound from a 1-5 start to go 7-11 and reach the regional finals for the fourth time in his career. He was awarded after the season with an All-KVL honorable mention as a utility player.
"I've always said you're only as good as your worst player. If there was anyone I've ever coached in my entire life that understood that as well as I did, it was Evan," said Kroll, who took over the program when Stilgenbauer was a freshman. "To say (Earlham) is getting a good student, athlete and soccer player is an extreme understatement."
With a 3-1 regional semifinal win Oct. 29 at Leavenworth-Immaculata, Stilgenbauer became the program's all-time wins leader. Matt Saathoff, a 2013 grad, also won 37 games in his career, but Kroll said Stilgenbauer started more games as a freshman.
Stilgenbauer won't make the trip to Richmond by himself. His twin sister, Emma, has signed to play basketball for the Quakers next season. Emma played for two seasons at Tonganoxie before transferring to Bishop Seabury Academy in Lawrence.
"It's a huge relief. To be honest, I was afraid because it's nine hours away from home and none of my friends are up there," Stilgenbauer said. "I have some family members who live about three hours away, but I'm glad to have my sister up there with me."
Stilgenbauer will join an EC team that went 11-8-1 under coach Roy Messer in 2013. It won a regular season Heartland Collegiate Athletic Conference title, going 7-2 in league play.