Linenberger: Greet others with warmth this holiday season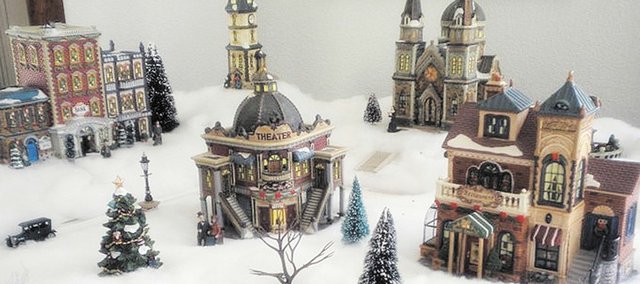 Santa Claus made a visit to Tonganoxie Elementary School last week for a little reading session with the entire kindergarten class.
Children intently listened as Santa read a book about, well, Santa, of course.
After a lively question-and-answer session, students filed out of the classroom where Kris Kringle was visiting.
As each teacher's class moseyed out of the room, children waved at Santa, walked up to give him a hug or asked on which of his lists were they currently.
Some children asked if Santa remembered seeing them at this event or that appearance, most often the Mayor's Christmas Tree Lighting last month in downtown Tonganoxie.
One question, however, never was posed: Are you going to bring me this or that for Christmas?
Not that a child isn't entitled to bring up such an inquiry.
After all, it's Christmas and it's fair game. To reference the movie "Finding Forrester," it's definitely a soup question.
But in the last several years that St. Nick has visited the local kindergarteners, telling Santa what a child wants hasn't been the most common occurrence. It's the request for a hug or the uttering of an "I love you" from the children.
It's those moments that remind you there's always hope for the future.
Children don't see color.
They don't see an overweight old man who needs to cut back on the sugarplums.
They don't see the need for petty Facebook arguments or the posting of some "story" that comes from a suspect source without checking the validity of said story.
Yes, children also aren't always angels, as their parents probably can attest.
But they encourage me to see the good in people.
This is supposed to be a wonderful time of year in which people gather with family and friends and share in the Christmas spirit.
Sometimes that ends with an aunt or uncle having a little too much nog and some old argument resurfaces as a result.
Sometimes that turns into people getting upset because you told them "Happy Holidays" instead of "Merry Christmas."
There's no question the materialism of the season has hindered Christmas. Those who practice the Christian faith know what importance the holiday carries in their religion.
That sometimes gets lost, especially when Black Friday continues to march its way further into November.
But folks also lose sight that the country is full of diverse people.
Some celebrate Hanukkah this time of year; others celebrate Ramadan at another time of year.
And that's OK.
So is greeting someone with a "Happy Holidays," "Merry Christmas" or a "Happy Hanukkah."
I know, you're likely not going to encounter many Hanukkah mentions in Tonganoxie, but a visit to Kansas City might produce a few.
Learn about others cultures and traditions. Share yours with them.
Get to know folks. It's time to share tidings of comfort and joy and realize the authenticity of the season.
After all, if we all had the drive to be on the list like those kindergarteners and offer goodwill toward fellow men and women, the world would be a much better place.