Chieftains down Atchison on Johnson's buzzer-beater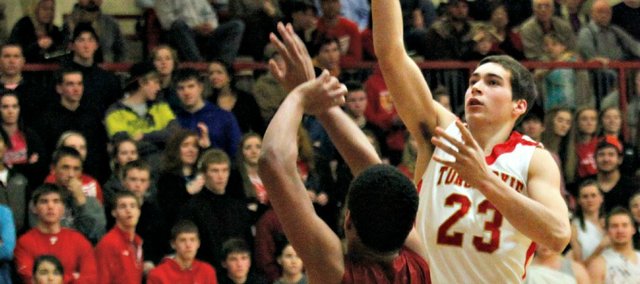 KVL standings
Team, KVL, Overall
Lansing, 6-0, 12-0
Basehor-Linwood, 5-1, 10-2
Mill Valley, 4-2, 7-4
Piper, 4-2, 8-3
Tonganoxie, 3-3, 5-6
Bonner Springs, 1-5, 4-8
Turner, 1-5, 3-9
Bishop Ward, 0-6, 2-10
Ask Ben Johnson about his jump shot, and he'll be the first to tell you it's not one of his strong points. Friday night against Atchison, though, the Tonganoxie High senior hit a jumper he won't soon forget.
Johnson connected from 18 feet out at the buzzer, propelling the Chieftains to a 63-61 victory against AHS.
A pair of free throws by Atchison's Jerel Rawls forced a 61-61 tie with just 2.5 seconds left, giving THS (5-6) time for one more play. James Grizzle's inbound heave was tipped by Rawls and Tonganoxie's Brady Swedo defender near the THS free throw line. Johnson corralled the loose ball and fired off a shot just a hair before the buzzer sounded.
In a series of events characteristic of the game itself, the ball went halfway down, rattled out and straight up, then fell through the net.
"I wasn't really expecting to shoot it," said Johnson, who was mobbed by teammates and fans after draining the game-winner. "I was the catch-and-pass guy, but it got tipped and hit Brady, then he tossed it to me and there was no time left. I just launched it and it went in.
"I'm not a good jump shooter, but that one went in, so, I was fortunate for that."
The Chieftains led by 12 at halftime and stretched their advantage to 41-25 with 6:19 left in the third quarter. However, Atchison responded with a 14-0 run that took less than four minutes off the clock. THS started the final period with a 43-39 lead, but Atchison forced a 49-49 tie with 4:43 remaining.
AHS switched to a zone defense after the break and forced coach Shawn Phillips' squad into numerous turnovers during its late surge. Atchison stayed within two possessions for the duration of the fourth quarter, but the Chieftains never allowed their opponent to go in front.
"Any game that's close, you've got to have people who are poised and execute what they're supposed to do," Phillips said. "I felt like we played with confidence. I didn't see any of our kids look like they were afraid of the situation."
Two Eric Tate free throws gave THS a 60-55 lead with 29.6 seconds remaining, but AHS scored six of the next seven to set up Johnson's buzzer beater.
James Grizzle, who led all scorers with a career-high 21 points, came up with several big shots under the basket in the game's final minutes. He also led the Chieftains with eight rebounds. Fellow big man Eric McPherson added nine points. As a team, THS pulled down 32 boards to Atchison's 25.
With the win, the Chieftains avenged a 62-44 loss they suffered to Atchison on Jan. 25 in the fifth-place game of the the Tonganoxie Invitational. Grizzle and McPherson combined for just 13 points in that game, and Atchison won the rebounding battle, 38-29.
"The biggest thing is we had more energy (Friday) than what we've had in a while," Phillips said. "We played with a lot more heart and fire. They're a good team, so to go get that win after they handled us a little bit the last time, that says a lot for our kids."
THS trailed by a point after one quarter, 12-11, but battled back and opened up a double-digit lead in the final minutes of the half. Atchison couldn't find an answer before the break, and the Chieftains went into the locker room with a 35-23 lead.
Jack Dale added 11 points — all in the first half — and Tyler Ford scored 10 in the victory. Wykeen Gill and Jerome Luster led Atchison with 20 and 16 points, respectively.
The Chieftains were supposed to host Ottawa on Saturday, but the game was canceled because of inclement weather. A makeup date has not yet been announced. The Chieftains will return to Kaw Valley League play Tuesday against undefeated Lansing. They dropped a 72-56 decision to the Class 5A Lions in their season opener Dec. 6 at LHS.
Score by quarters
Atchison 12 11 16 22 — 61
Tonganoxie 11 24 8 20 — 63
Individual scoring
ATCHISON — Wykeen Gill 8-17 4-8 20, Jerome Luster 6-10 2-2 16, Jerel Rawls 3-5 4-4 10, Tanner Huntington 3-12 0-2 7, Bennie Smith 3-3 0-1 6, RaShaun Chambers 1-2 0-0 2.
TONGANOXIE — James Grizzle 8-10 5-7 21, Jack Dale 4-7 3-3 11, Tyler Ford 1-5 8-10 10, Eric McPherson 3-5 3-4 9, Ben Johnson 2-4 0-0 4, Jared Sommers 1-3 0-0 3, Eric Tate 0-1 3-6 3, Carl Hecht 1-2 0-0 2.