Carey, Kissinger win titles in Baldwin
THS

to dual Bonner Springs on Thursday for senior night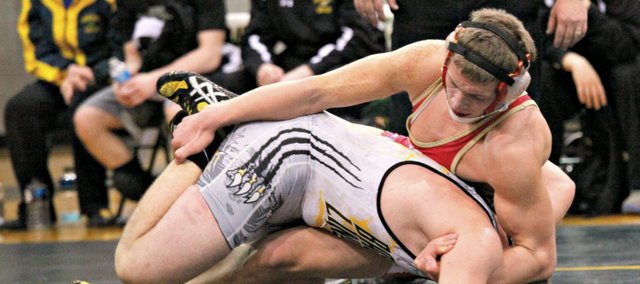 Saturday at the Baldwin Invitational, the Tonganoxie High wrestling team got a firsthand look at more than half its Class 4A regional field. If the annual tournament was a sign of things to come, the season could be far from over for several Chieftains.
Four THS wrestlers reached the finals of their respective weight classes as the Chieftains finished seventh in the 16-team field.
Seniors Luke Carey (195 pounds) and Zeke Kissinger (220) each went 3-0 brought home individual titles. Carey won his weight class with a 6-0 victory against Baldwin's Mario Garcia. In the semifinals, he avenged Thursday's dual loss to Basehor-Linwood's Zack Carter with an 11-7 win.
"I just had to fix my mistakes, so that's what I did," said Carey, who won his first title of the season and improved to 19-12 this season. "You've just got to fix the mistakes and keep building from there."
Meanwhile, Kissinger pinned each of his three opponents. He sealed the deal with a pin of De Soto's Chandler Carter with just 15 seconds remaining in the championship match.
The title was the second of the year for Kissinger, who returned to varsity competition Thursday after missing back-to-back tournaments with a shoulder injury. His first championship came Dec. 22 at the Randy Starcher Memorial Invitational. He is now 17-3 this season.
"Zeke coming in after a couple weeks off and winning the tournament, that puts him in good position come regional time," coach Jeremy Goebel said. "It's going to help down the road."
Senior Clayton Himpel (132) and junior Asher Huseman (152) each reached the finals, but fell to Holton wrestlers in the championship round. Himpel, now just two wins shy of the THS career mark, fell to Jonah Lutz, 5-1. Huseman, previously undefeated against 4A opponents, dropped a 3-0 decision to Lucas Lovvorn.
Holton, the reigning 4A state champion and the host of the Chieftains' upcoming regional tournament, the won the team title with 212 points.
THS also earned several of its 131 points on the back side of the bracket — an area Goebel has made a priority in recent weeks. Freshman Jay Willcutt (120) won two consolation matches before being eliminated, while junior Garrett Martin (138) and senior Joe Wolf (160) finished seventh and sixth, respectively. Wolf reached the semifinals, but was forced to injury default in his final two matches.
THS will return to its home gym Thursday for a senior night dual against Kaw Valley League opponent Bonner Springs. Action will begin at 5:30 p.m. with kids club matches. Before the start of the varsity dual, seniors Himpel, Wolf, Carey, Kissinger, Jordan Boudreaux and Steven Stockman will be recognized in a ceremony.
"It means a lot to us," Carey said. "We've watched everybody else do it before us and didn't think it would come this fast."
Overall team results
Holton, 212; 2. Goodland, 201; 3. Prairie View, 185.5; 4. Baldwin, 181; 5. Basehor-Linwood, 159.5; 6. Abilene, 147.5; 7. Tonganoxie, 131; 8. Royal Valley, 125; T9. Jeff West, 99; T9. Wamego, 99; 11. De Soto, 88.5; 12. Louisburg, 84; 13. Santa Fe Trail, 80; 14. St. James Academy, 55; 15. Eudora, 16; 16. St. John's Military, 13.
THS individual results
106 — Cameron Cash, 0-2 (N/A)
113 — Open
120 — Jay Willcutt, 2-2 (N/A)
126 — Jordan Boudreaux, 0-2 (N/A)
132 — Clayton Himpel, 2-1 (Second)
138 — Garrett Martin, 3-2 (Seventh)
145 — Heath Martin, 0-2 (N/A)
152 — Asher Huseman, 2-1 (Second)
160 — Joe Wolf, 2-3 (Sixth)
170 — Open
182 — Open
195 — Luke Carey, 3-0 (First)
220 — Zeke Kissinger, 3-0 (First)
285 — Open