Chieftain girls blow by Atchison in sub-state rematch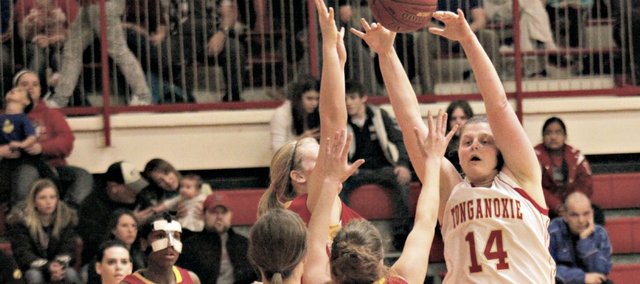 KVL standings
Team, KVL, Overall
Piper, 6-0, 11-2
Bonner Springs, 5-1, 9-3
Basehor-Linwood, 5-1, 9-3
Mill Valley, 3-3, 7-6
Lansing, 2-4, 5-7
Tonganoxie, 2-4, 5-6
Bishop Ward, 1-5, 4-8
Turner, 0-6, 1-11
The Tonganoxie High girls opened up an 11-point halftime lead and used a dominant fourth quarter to pull away in a 30-point victory in a rematch of last year's Class 4A sub-state championship game.
"Overall, we played pretty well," coach Randy Kraft said. "There's always room for improvement in areas, but the different personnel and different defenses they run, I thought our kids handled it pretty well."
THS (5-6) entered the final period leading 44-32 and used a 10-2 run to put the game out of reach. The lead reached 30 in the final seconds, and a running clock went into effect.
Katelyn Waldeier led four Chieftains in double figures with a game-high 16 points. Tressa Walker added 12, while Emily Soetaert and Cheyenne Ford finished with 11 and 10, respectively.
"We obviously shot the ball better than we have been," Kraft said. "You're going to shoot the ball better when you move the ball better. A lot of those were outside shots, so that was pretty encouraging."
Laurene Cushinberry and Arika Smith led Atchison with nice points each. Cushinberry hit her first four shots of the game, but was held to a single free throw in the second half. Meanwhile, Smith, who has had success in previous meetings with the Chieftains, went just 4-of-20 from the field.
The Chieftains were supposed to host Ottawa on Saturday and Lansing on Tuesday, but both games were canceled because of inclement weather. Makeup dates have not yet been announced. THS will return to Kaw Valley League play Friday at home against Class 5A Mill Valley.
Score by quarters
Atchison 12 6 14 4 — 36
Tonganoxie 16 13 15 22 — 66
Individual scoring
ATCHISON — Laurene Cushinberry 4-8 1-5 9, Arika Smith 4-20 1-3 9, Ashton Ettleman 4-6 0-0 8, Mady Shipley 3-6 2-2 8, Makenzie Dougherty 1-2 0-0 2.
TONGANOXIE — Katelyn Waldeier 8-14 0-2 16, Tressa Walker 4-5 3-6 12, Emily Soetaert 4-15 2-6 11, Cheyenne Ford 5-7 0-0 10, Kara Banks 4-9 0-2 8, Sarah Ahart 2-3 1-3 5, Sophie Breedlove 0-0 2-2 2, Emily Eberth 0-0 2-2 2.