Five Questions: Heart healthy snow shoveling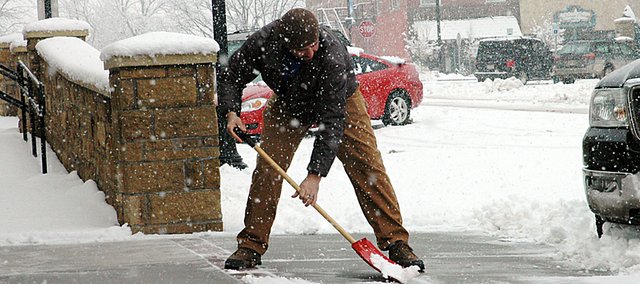 With more than six weeks of winter still ahead of us, American Heart Association spokeswoman Ciara O'Brien Murray shares advice on how to care for your heart while shoveling snow.
Q: Why is there a risk of heart attack from shoveling snow?
A: For most people, shoveling snow may not cause health problems. However, the risk of a heart attack during snow shoveling may increase for some, especially those in poor physical condition or those with existing heart disease or a personal history of stroke. The combination of colder temperatures and physical activity increases the workload on the heart.
Q: What can be done to lower the risk while shoveling?
A: Take frequent rests so you don't overstress your heart. Pay attention to how your body feels during breaks.
Q: Any other tips?
A: It is safer to lift smaller amounts more times than to lug huge shovelfuls of snow. When possible, push the snow.
Q: Is there anything to avoid before shoveling?
A: Don't eat a large meal, which can put an extra load on your heart. Don't drink alcohol before or immediately after shoveling, which may give a false sense of warmth and mask the strain of shoveling.
Q: How can I find out what the signs are of a heart attack?
A: The American Heart Association offers a list of heart attack and stroke warning signs on its website at http://bit.ly/1mSsJ2m.