Tonganoxie departments report calm day; school districts cancel Wednesday classes, events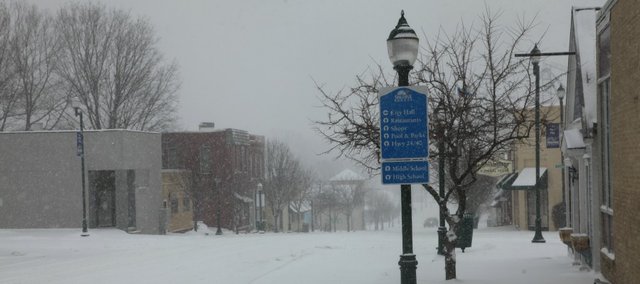 The Tonganoxie area continues to be in a winter storm warning until Wednesday morning, but Tuesday has been fairly calm despite steady snowfall throughout the day.
Tammie McCutchen, Tonganoxie City firefighter, said the fire station has been quiet.
"I think people have taken heed of the advice to stay home," she said. "I think they've only had a couple calls in the whole county."
McCutchen said the fire department will have additional part-time firefighters on duty overnight in case of any emergencies due to the inclement weather. That way, they're not trying to drive in any rough weather if they needed to be called in, McCutchen said.
Tonganoxie police chief Jeff Brandau had a similar report.
"It's been quiet," he said. "The way we like it."
Brandau said people seemed to be staying home and not chancing the weather this morning.
"This morning there was very little traffic," he said. "No one was out messing around."
Tonganoxie students don't have school tomorrow because of parent-teacher conference.
Now, neither do the parents and teachers.
USD 464 Superintendent Randy Weseman said the conferences were being called off for Wednesday. He said he would make a decision later Wednesday about whether to also council conferences on Thursday. Teachers have an inservice day Friday, so students are out the rest of the week.